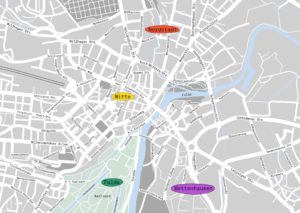 documenta fifteen takes place across thirty-two exhibition venues in four different areas of Kassel: Mitte, Fulda, Nordstadt, and Bettenhausen.
ruangrupa, the Artistic Direction of documenta fifteen, and the Artistic Team do not regard Kassel as an exhibition venue. Instead, the city is understood as an ekosistem (the Indonesian word for "ecosystem"), as a mesh of social contexts in which documenta fifteen emerges and grows.
The exhibition focuses on four areas of Kassel: Mitte, Fulda, Nordstadt, and Bettenhausen. Starting from Kassel's Mitte with its many museum buildings, documenta fifteen extends around the Fulda River, the city's historically important arterial waterway. From there, the exhibition opens up to Nordstadt and, for the first time in documenta's history, to the industrial district of Bettenhausen. documenta fifteen consciously leaves the historical and social traces of the locations visible in order to situate them in new contexts.
The thirty-two exhibition venues of documenta fifteen are:
Mitte
Fulda
Bettenhausen
Nordstadt
For further information regarding opening hours, services offered, directions, and accessibility at individual exhibition venues, please refer to our website. Exhibition walks, called Walks and Stories, through different venues can be booked online.