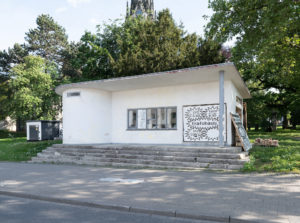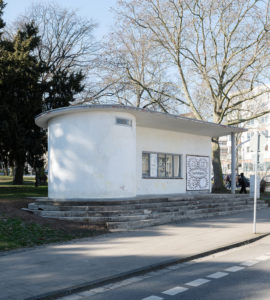 What the Trafohaus (Transformer Station) on Lutherplatz once did is now done by a small box next to it: transforming electricity. The white building lies between districts; it has been used as a kiosk, a telephone booth, and a post office. Since the early 1990s, it has also hosted exhibitions.
For documenta fifteen the worldwide network Arts Collaboratory is also using the Trafohaus—as a newsroom, radio station, rooftop garden, and site of a theater performance.
Directions
Lutherstraße 2, 34117 Kassel
ˇ
Accessibility
Access:
The Trafohaus can be accessed either via five steps or on the side via a walkway and a short path across a meadow. This venus is not intended for indoor visits. The works are visible on the exterior wall.
Bathrooms:
No bathrooms are available.
Parking:
You can find a detailed map of the city of Kassel here (in German language). Selection in the topic layer "Themen-Layer": Verkehr & Mobilität + Behindertenparkplätze
lumbung members & artists
Lumbung Program on site