Alice Yard is a contemporary art collective which, since 2006, has organized and hosted numerous artists' projects and exhibitions, performances, conversations, and other events, developing an ethos of self-determination, self-sufficiency, generosity, and playfulness.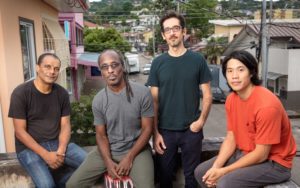 Their work is inspired by Trinidad's tradition of communal urban yard spaces and mas camps – workshops where Carnival bands create their costumes. They also run a residency program that brings artists, curators, and others to Port of Spain, Trinidad and Tobago. Alice Yard is administered and curated by architect Sean Leonard, artist Christopher Cozier, writer and editor Nicholas Laughlin, and designer Kriston Chen, with the support of an evolving network of collaborators, headquartered at their Granderson Lab space in the Port of Spain neighborhood of Belmont.
During documenta fifteen, Alice Yard hosts nine artists in residence in Kassel: Shannon Alonzo, Bruce Cayonne, Blue Curry, Nicole Delgado, Michelle Eistrup, Versia Harris, Amanda Hernandez, Ada M. Patterson, and Luis Vasquez La Roche. They are physically based at WH22, which serves as a living and working space, while creating and presenting site- and time-specific works in diverse media at additional venues including Grimmwelt Kassel, Trafohaus, and informal outdoor locations around the city.
At Grimmwelt Kassel, Alice Yard presents Telling After All … (2022), a digital video and editorial project with works by five Caribbean artists who explore questions of folklore and mythology in the digital era—after the era of state construction, regulation, and assertion of national identity.
Alice Yard is also hosting a screening program co-curated with the Third Horizon Film Festival, presenting short film and video works by Caribbean and diaspora artists at WH22. In parallel, during the 100 days, Alice Yard is instigating a series of spontaneous activations in Kassel with artists to be later announced, as well as events in Port of Spain.
Invited participants
Ada M. Patterson
Amanda Hernandez
Blue Curry
Bruce Cayonne
Cass'Mosha Amoroso-Centeno
Christopher Cozier
Co-rd Ltd.
Gwladys Gambie
Karyn  Olivier
Kriston Chen
Luis Vasquez La Roche
Michelle Eistrup
Nicholas Laughlin
Nicole Delgado
Oneika Russel
Raquel Vasquez La Roche
Razia Barsatie
Sean Leonard
Shannon Alonzo
Tessa Mars
Versia Harris