Asia Art Archive (AAA) is an independent non-profit organization initiated in 2000 in response to the urgent need to document the multiple recent histories of art in the region and to make them accessible. With a valuable collection of material on art freely available on their website and at their Hong Kong onsite library, AAA builds tools and communities to collectively expand knowledge through research, residency, and educational programs.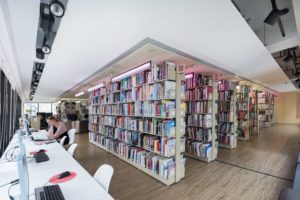 The organization drives the composition of the collection with key areas of concern, so-called content priorities. These include examining sites where art history has been written in Asia through the lens of art writing, exhibition-making, and pedagogy, looking at ideas that connect people across national borders, considering tradition and contemporary expression in parallel, investigating ephemeral practices such as performance art, and addressing gaps in art history and in the organization's collection such as the underrepresentation of women.
As part of a group of collectives and organizations who are dedicated to collaboration and knowledge sharing, AAA's contribution to documenta fifteen foregrounds the active role artists themselves have played in preserving and mediating knowledge about art. Weaving together archival material from the AAA Collections and artworks on loan, the presentation zooms in on three clusters of artist-collectives committed to documenting and reinterpreting practices rooted in everyday vernacular cultures across Asia: artists connected to the Faculty of Fine Arts, Vadodara, India, who participated in the Living Traditions movement in postcolonial India; Womanifesto, a feminist art collective and biennial program in Thailand, most active from 1997 to 2008; and the network of performance art festivals that blossomed across East and Southeast Asia starting in the 1990s.
The section on Vadodara traces the role of Jyoti Bhatt, Nilima Sheikh, K.G. Subramanyan, and others associated with the Faculty of Fine Arts, Vadodara, in preserving and integrating vernacular art forms such as rangolis (threshold paintings) and stencil-making into their artistic practice. The Womanifesto section, meanwhile, highlights the work of the eponymous feminist biennial collective, in pushing beyond ostensible rural-urban divides by connecting its network of international women artists with the community around one particular farm in the Isaan region of Thailand. Finally, the festivals and gatherings that were nodes in the performance art network that sprung around the same time as Womanifesto, though often thought of as hotbeds of experimentation, more often than not featured artists who adapted everyday gestures and settings into their work. These interwoven recent histories, as retold by Asia Art Archive, are an active testament to the collective ethos at the root of contemporary art across the region, and its engagement with the everyday local.
Since October 2021, Asia Art Archive has been cooperating with the Department of Art Education at the Kunsthochschule Kassel within the framework of the seminar "How to deal with images? Reception in Art Lessons"—a collaboration that is to continue throughout the duration of documenta fifteen.
Invited participants
Arahmaiani
Aung Ko
Josef Ng
Jyoti Bhatt
K.G. Subramanyan
Karla Sachse
Ko Siu Lan
Lawan Jirasuradej
Lee Wen
Ma Liuming
Maung San Oo
Moe Satt
Nilima Sheikh
Nitaya Ueareeworakul
On-Anong Glinsiri
Phaptawan Suwannakudt
Phyu Mon
Ray Langenbach
Sanmu
Shu Yan
Varsha Nair
Womanifesto