FAFSWAG is a Moana Oceanic arts collective founded in Aotearoa in 2013. They aim to challenge the lack of representation of Queer and Indigenous people in the creative industries by evading heteronormativity and establishing multicultural identities and an interdisciplinary practice.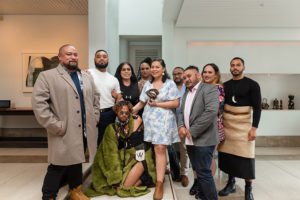 Operating across a multitude of art forms and genres, FAFSWAG's artists work collaboratively to activate public and digital space. They celebrate Queer Brown bodies, contemporary Pacific arts, and cultural restoration. Their online platform documents in an artistic manner the cultural connectivity of Queer Pacific People of Color navigating their unique identities within New Zealand's urban landscapes. The collective develops site specific cultural experiences and arts engagements that speak to their unique and diverse contexts as LGBTQ people from Oceania.
For documenta fifteen, FAFSWAG presents three site-specific works that draw from their own spiritual connections to ancestral practices of storytelling and Indigenous cosmology. The first is a moving image installation, a collaborative work resulting from a 2019 workshop process. Through this installation, FAFSWAG wishes to publicly share their aspiration for a deepening narrative-based digital practice to navigate the increasingly uncertain world that we live in. It is a means for making meaningful connections to the Moana diaspora and other migrants who are culturally displaced.
FAFSWAG'S second contribution is an augmented reality (AR) sculpture called Atua, derived from deity figures that occupy the underworld in pan-Pacific cosmological belief systems. Here, Tanu Gago and Jermaine Dean seek to recuperate the connection—ruptured by violent colonization and suppressed throughout modernity—between ancestral divine beings and queer Indigenous folk.
The third contribution in documenta fifteen takes shape as an archival exhibition, which bears witness to FAFSWAG's artistic embeddedness in Pacific heritage as they journey across translocal contemporary art scenes. Comprising large mixed-media works, and items of traditional material culture, this collection is a platform for engaging with collective organizing and resource-sharing.
Previously, FAFSWAG has presented and exhibited extensively within Aotearoa New Zealand including Auckland Art Gallery, the Auckland War memorial Museum, ARTSPACE NZ, COCA Centre of Contemporary Arts Christchurch, and are the 2017 Company in residence at Basement Theatre and the winners of the 2017 Auckland Theatre Award for best overall work. Furthermore, FAFSWAG's work has been shown worldwide, among them at the Centre Pompidou in Paris (2018) and HAU Hebbel am Ufer, Berlin (2020). In 2020, FAFSWAG received the Arts Foundation Laureate Award for Interdisciplinary Arts and represented New Zealand at the 22nd Sydney Biennale.
Invited participants
Elyssia Wilson Heti
Falencie Filipo
Hōhua Ropate Kurene
Ilalio Loau
James  Waititi
Jermaine Dean
Moe Laga-Toleafoa
Nahora Ioane
Pati Solomona Tyrell
Tanu Gago
Tapuaki Helu
Tim Swann