Party Office is an anti-caste, anti-racist, trans*feminist art and social space in New Delhi, India, which also operates at satellite locations and conceptual architecture. Through publications, grants, radical archives, conversations of life lived, social gatherings, parties and more, they are building translation dialogues on empathetic futures, care communities and radical agency.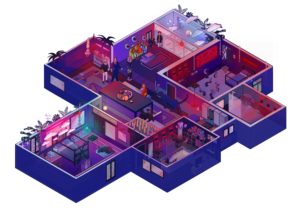 Artist-Curator Vidisha-Fadescha has organized alternative art and pedagogic spaces since 2011 and founded Party Office in 2020. Through video, text, sound, and performance, Fadescha's work focuses on body movement as an archive of multi-generational trauma, the body as the site to center one's desire, and Party as a site of resilience and affirmative kinships.
In continued support of work that is led by marginalized figures, this satellite location at documenta fifteen holds a social-spatial exploration of Queer Time: Kinships & Architectures. Taking forward the idea of parties as important sites of liberation, the space aims to re-order neo-liberal definitions of productive time, centering rest, rave, and radical pleasure as primal processes towards resilience. Party Office are building a dancefloor, a dungeon, a reading room and resting areas.
Party Office will host an extensive public program inviting progressive thinkers through multi-format talks and performances. They will also host the After Hours and launch their party HYPER VIGILANT.
Alongside will be Vidisha-Fadescha's two channel video installation Nesting in Rapid Floods: Qworkaholics Anonymous II. The series Qworkaholics Anonymous, initiated by Vidisha-Fadescha, reimagines the format of de-addiction programs to create space for "doing nothing", asserting that trans* and other radical figures do important work in their very acts of survival.
Invited participants
Abhinit  Khanna
Ada Navarro
After Party Collective
Ali Akbar Mehta
Allies for the Uncertain Futures
Amrish  Kondurkar
Aru
Aum
Anna Tje
Benji Hart
c1
Coranza de Robota
Dhrubo Jyoti
DINA
Grace Banu
Jasmine Infiniti
Joey Cannizzaro
Juliana Huxtable
Jyotsna Siddharth
Kinkinella
Morenxxx
Okhigobe Omonblanks Omonhimin
Pêdra Costa
Ramya Patnaik
Shaunak Mahbubani
Slim Soledad
Tsohil Bhatia
Vidha Saumya
Vidisha-Fadescha
and more