Agus Nur Amal PMTOH uses household objects for storytelling performances and creates art objects to share ideas, knowledge, conflict resolutions and trauma healing. Collaborating with artists, photographers, videographers, and educators, he aims to entertain and educate through various methods.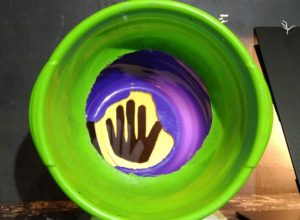 After he graduated from theater faculty at the Jakarta Institute of Arts, Agus returned to his hometown Weh Island (Aceh, Sumatra) to research and study the art of Acehnese storytelling known as PMTOH. In 1992 he began to perform his theatrical style monologue which he also calls PMTOH, and staged the plays Anak Emak Searching for Eggs, Tale of General Puyer Bintang Tujoeh, Police and Bandits, Tale of the Faithful Ring, Ma Liang the magic brush, and The Story of Panca Tantra. He performed at different places in Indonesia on various issues like politics, disaster, and rural public health.
Agus is also involved in community empowerment activities, having joined the Anti-Violence Community in handling student brawls in 1999-2002 in Jakarta. From 2003 until now, he works with Komunitas Tikar Pandan community for trauma healing and peace building projects in Banda Aceh. Since 2005, he has used his self-created TV Eng Ong as a small stage and was also screened in the National TV.
For documenta fifteen, Agus creates a series of storytelling sessions at Grimmwelt Kassel based on the Sundanese life principle, Tri Tangtu. The storytelling workshop sessions are conducted with schoolchildren from the Friedrich Wöhler Schule and Reformschule in Kassel. Tri Tangtu represents a vernacular thought system in which the mystical, rational, and natural intersect with each other and serve as the basis to guide the relational position of humans with other inhabitants of Earth. Central to storytelling is the joy of just being and interacting with many people: remembering the past, thinking about the present, and speculating about futures.
Invited participants
lumbung Story Gudskul
Adji Utomo
Aldino
Arie "ABG"
Budi "Bungen" Mulia
Doni Busatwego
Dwi "Ube" Wicaksono Suryasumirat
Greistina Kusumaningrum
Hady Suharyadi
Indriatma Sitorus
Jufi Iqbal (Suara Djaya)
Mushowir
Nissal "Lindung"  Nur Afryansah
Novi Elisa Surya
Nugraha Salim
Oshan Nurisa
Panji "Jin" Purnama Putra
Rino Aditia
Salman Hanief
Topan "Opang" Darmawan
Wiratama
Wiratama
Gesyada Siregar
JJ Adibrata
Libby Davitri
MG Pringgotono
lumbung Story Jatiwangi art Factory
Adji Utomo
Ahmad sujai
Aldizar Ahmad Ghifari
Alma Noxa
Anzar "Aaf" Agung Fauzan
Arie Syarifudin (Al Ghorie)
Arief Yudi Rahman
Bayu Edmanda
Bunga Siagian
Dadang Sugiyarto
Dedeh Marwiah
Deden Imanudin
Diah Mardiah
Doni Busatwego
El Gea
Ginggi Syarif Hasyim
Greistina Kusumaningrum
Ibu Darmini
Ibu Nia Mardiyani
Illa Syukrillah Syarif
Ismal Muntaha
Kiki Permana
Libby Davitri
Aldino
Mikayanti Engkus
Mini Rukmini
Miningsih
Mushowir
Nissan "Landung" Nur Afryansah
Nugraha Salim
Oshan Nurisa
Panji "Jin" Purnama Putra
Rino Aditia
Rohanah
Salman hanief
Suni
Tedi En
Uun Unayah
Wiratama
Yati Sumiati
*Gerak-Gerak Pictures*
Tritangtu
Agung M. Abul
Ary "Jimged" Sendy
Bopik
Budi "Bungen" Mulia
Budi Setiawan
Greistina Kusumaningrum
Julian Riezky
Libby Davitri
Muhammad Revaldi
Pani
Saleh Hussein
Uju
Cast:
Agung 'Abul'
Ani
Bahar
Dian
Dika
Elsa
Enjen
Eros
Faris
Iin
Johani
Mang Edie
Neti
Nur
Rohani
Santi
Sari
Teti
Uju
Uun
Wiiwin
Yati
Mechanic Object
Arief Atto
Fathan Mubin
Aldino
Oshan Nurisa
Putra Hidayatullah