The OFF-Biennale Budapest started in 2015 as a grassroots statement project that was to testify to the independence, resilience, and capability of the local art scene in Hungary.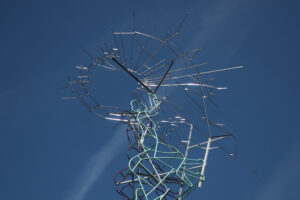 Started and sustained by a handful of art professionals, the one-time event has since turned into an independent platform where art engages with pressing issues, and the underlying dialogues and collaborations of artists, curators, researchers, students, and various civil groups and organizations can be nurtured and promoted on a local as well as international level.
OFF has never applied for Hungarian public funding and steered clear of state-run art institutions — a policy that, while it counters the project's principles of cooperation, sharing, and serving the common good, is still deemed necessary in order to preserve freedom of expression and professional integrity. The third OFF-Biennale Budapest took place from April 23 until May 30, 2021.
In Kassel, OFF-Biennale presents two projects and a publication. One of them, a long-term collaborative project with the European Roma Institute for Arts and Culture (ERIAC), showcases artworks in relation to the idea, question, and (im)possibilities of a "RomaMoMA" (Roma Museum of Contemporary Art). The exhibition presents the untold past and the unfolding present of Roma artists through their artworks and storytelling. Older and younger generations of artists and their differing artistic positions will be highlighted through an installation that both constructs and deconstructs the idea of a "RomaMoMA" as an imaginary, transnational space for the presentation of artworks.
OFF-Biennale's second contribution plays out in close proximity to the Fulda River as a space that oscillates between the concepts of playground, junkyard, and construction site—places of creativity, transgression, refuse, and regeneration. In and around the boathouse AHOI!, the space is transformed by numerous actors—artists, collectives, architects, and children—enacting construction, creativity, and the building of social systems.
OFF's projects are accompanied by a publication that examines the many aspects of the notion of "independence" as well as the power of collectivity. It is realized by the editorial platform On the Same Page that was initiated as an experimental publication method under the umbrella of OFF-Biennale Budapest, involving the participants and organizers of its 2021 edition.
Invited participants
OFF-Biennale Core Team
Curators
Nikolett Erőss
Eszter Lázár
Hajnalka Somogyi
Eszter Szakács
Borbála Szalai
Katalin Székely
Team  
András Bognár
Dina Darabos
Dominika Szabó
Szabolcs Vida
What ifs and why nots: OFF-Playground
Artists
Architecture Uncomfortable Workshop (Dénes Emil Ghyczy, Lukács Szederkényi)
Ádám Kokesch
Eva Koťátková
Ilona Németh
The Randomroutines (Tamás Kaszás, Krisztián Kristóf)
Recetas Urbanas (Santiago Cirugeda,  Alice Attout,  Carlos Vázquez Gardón,  Garazi Merodio Ayarza, Ania Jaca Sanz de Arellano, Jorge Barroso (Bifu), Martina Helmke,  Emilien Le Goff,  Mario Bestion, Isadora Grumiaux)
Contributors and partners
Edible City (Maximilian Mechsner)
K&K Stauden
Kassel University (Prof. Dr.-Ing. Stefan Körner, Dr.-Ing. Florian Bellin-Harder)
LABAK (Michal Marcinov, Katarína Stanislavová)   Marián Ravasz
Unterneustädter Schule, Kassel
One day we shall celebrate again – RomaMoMA
Artists
Daniel Baker
János Balázs
Robert Gabris
Sead Kazanxhiu
Damian Le Bas
Małgorzata Mirga-Tas
Mara (Omara) Oláh
Tamás Péli
Selma Selman
Ceija Stojka
Co-curators   
Daniel Baker
Ethel   Brooks
Tímea  Junghaus
Miguel Ángel Vargas
Consultants  
Eszter György
Angéla Kóczé
Anna Lujza Szász
Teri Szűcs
Partner
ERIAC – European Roma Institute for Arts and Culture
Contributor
East Europe Biennial Alliance
One the same page – OFF-Curatorial Practice
Rita Kálmán
Lívia Páldi
Katarina Šević