Wakaliga Uganda, also known as Ramon Film Productions, is a film studio established in 2005 and based in Wakaliga, a slum in Kampala. Its founder and director Isaac Godfrey Geoffrey Nabwana, or Nabwana IGG, has been called Uganda's Tarantino for the depictions of violence in his films.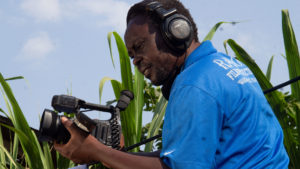 Wakaliga Uganda is best known for its ultra-low-budget (estimated to be in the region of US$200) action movies, such as Who Killed Captain Alex? (2010), Tebaatusasula (2010), Rescue Team (2011), Bad Black (2016), and Crazy World (2019). The forthcoming movie Isaak Ninja is based on the true story of the warrior Kibuuka Omumbaale from the Kingdom of Buganda. Bad Black was a critical and audience favorite at the Seattle International Film Festival in 2017. In 2020, Wakaliga Uganda collaborated with the German melodic death metal band Heaven Shall Burn to direct the music video for their song Eradicate from the album Of Truth and Sacrifice.
Wakaliga Uganda is not only a movie factory, but also an artistic and social experiment. In one of the poorest areas of Kampala, Isaac Nabwana created dozens of films within only ten years. Working as actors for Wakaliga Uganda keeps many teenagers from all over the country away from alcohol and drugs. They train in martial arts, create equipment to use on set, and act under the eyes of Wakaliga's residents. Wakaliga Uganda has thus inspired many young talents to believe in themselves by giving them a chance to establish themselves and use their abilities in acting, directing, make-up, editing, screenwriting, or production. Now, several of them have started their own film companies and employ other young people.
Invited participants
Assimwe Apollo
Bisaso Dauda
Coconote studio
Harriet  Nakasujja
Isaac Godfrey Geoffrey Nabwana
Kasekende Mustafa
Katunda Abdul Wahab
Kazibwe Ronald
Kizito Isaac Newton
Lyagoba Suudi
Max Winckler
Mbulaiteri
Nashibah Nakibuuka
Nattembo Racheal Monica
Nsamba Francis
Ssebagenyi Ronald
Ssempala Sulaiman
Wakastarz Band