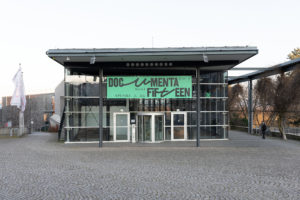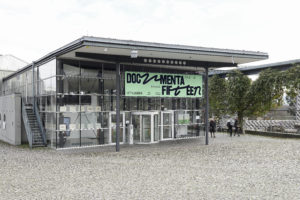 Flat roof, steel beams, and a glass façade: the postmodern constructivist style of the documenta Halle, by Jourdan & Müller architects, is a typical example of 1990s architecture. Realized in 1992 for documenta 9, curated by Jan Hoet, the building was the first to be designed specifically for the exhibition, and was conceived as a kind of "bridge" connecting the Staatstheater to the Karlsaue. As a documenta fifteen venue, with its large, empty exhibition space and white walls, the documenta Halle is an exception: visitors will not encounter many venues in the tradition of European museums built to present static artworks.
For documenta fifteen, the documenta Halle is being used by collectives in unusual ways. The nonprofit artists' initiative Baan Noorg Collaborative Arts and Culture, from the province of Ratchaburi in Thailand, presents a three-part project that includes an installation of documentary videos dedicated to the dairy industry in Germany and Thailand, a shadow-puppet theater, and a skateboard ramp made available to Kassel's skater scene. The community-based Wajukuu Art Project from the Mukuru slum in Nairobi, Kenya, shows works by its members and a documentary film. The Instituto de Artivismo Hannah Arendt (INSTAR) from Havana, Cuba, is organizing a series of ten exhibitions with artists from Cuba that produce counter-narratives of Cuban art and history. Britto Arts Trust is a collective from Dhaka, Bangladesh, that focuses on nutritional policies and communities suffering the effects of industrialization. They take on issues related to environmental changes as well as to foods that, only a few years ago, were typical of certain regions of their homeland but are now at risk of disappearing. The lumbung Press is also located at documenta Halle: a print workshop where artists and collectives can print and bind their publications.
Directions
Du-Ry-Straße 1, 34117 Kassel
ˇ
Accessibility
Access:
documenta Halle has a ground-level entrance and exit. A ramp and an elevator (140 x 150 cm) are available in the building. All exhibition rooms and passageways are wheelchair accessible. The sidewalk outside, along the documenta hall has steps. A work outside, "Kitchen Garden", is mulched and therefore not wheelchair accessible.
Bathrooms:
There is a barrier-free bathroom in the basement. It is accessible by elevator (140 x 150 cm).
Parking:
You can find a detailed map of the city of Kassel here (in German language). Selection in the topic layer "Themen-Layer": Verkehr & Mobilität + Behindertenparkplätze.
Potential Barriers:
For people with light sensitivity, the bright lighting on the skate ramp may cause orientation difficulties and trip hazards. The volume of the rolling skates should also be noted. The dark entrances to the documenta hall as well as to the film rooms may cause orientation difficulties.
lumbung members & artists
Lumbung Program on site
Walks and Stories on site