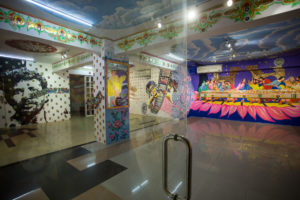 Britto Arts Trust is an artist-run non-profit collective founded in 2002. As part of the Triangle Network, an international network of artists and visual arts organizations, it has a global reach.
Britto Arts Trust is based in Dhaka, but works extensively in different locations across the country. Britto attempts to understand Bangladesh's socio-political upheaval by exploring missing histories, cultures, and communities and collaborating with various partners.
Britto seeds and promotes multiple interdisciplinary practitioners, groups, and networks. It provides an international and local forum for the development of professional art practitioners, a place where they can meet, discuss, experiment, and upgrade their abilities on their own terms. In response to the lack of suitable educational institutions in Bangladesh, Britto functions as an alternative learning platform for many artists who have gone on to produce highly experimental work.
At documenta fifteen, Britto creates a vivid interconnected landscape devoted to food politics, displacement, and culture. The first is an organic palan—a Bengali kitchen garden—which feeds the pak ghor, the family kitchen-cum-living room. In Kassel, Britto's pak gor serves food and gathers people from its immigrant population, who prepare meals, share their histories, memories, and host events, presenting the food cultures of 100 nationalities in 100 days.
In the large-scale installation rasad (2022), Britto has recreated a small-town bazaar stocked with food items in crochet, ceramic, metal, or embroidery, produced collaboratively through workshops in Dhaka in 2021.
A team of artists have spent a year combing through old Bengali movies for scenes of food, famine, and war, renditions of which form a large on-site mural Chayachhobi (2022). Britto has organized Re-Visit (2021–2022), which travels across remote Bangladeshi villages revisiting communities they have worked with in the past, and documented for display in Kassel. Here, Britto scrutinizes the geopolitical issues facing rural and border locations in Bangladesh and their loss of land rights, environment, and culture.
Over the past few years, Britto has concentrated on large-scale, long-term projects focusing on socio-political issues and engaging communities and participants from various spheres. One example is ZERO WASTE-FoodArt, which was established during the coronavirus pandemic. Since March 2020, this initiative has worked with a number of artists and art collectives to create socially responsible projects at various locations in Bangladesh and abroad. Starting from its connection to local roots, histories, and communities, Britto engages with international events, such as the organization of the first Bangladesh Pavilion at the 54th Biennale di Venezia in 2011.
Invited participants
Khabia Areg
Md. Aminul  Islam
Md. Khairul Alam
Md. Abu Sayed Ali
Md. Esahak  Ali
Md. Kased Ali
Md. Abba Ali
Md. Saheb Ali
Rakibul Anwar
Milton Anwar
Geeta Rani Barman
Tuton Chandra Barman
Ashik Chandra Barman
Biplob Chandra Barman
Anjali Rani Barman
Rupe Chandra Barman
Suhel Chandra Barman
Sonji Rani Barman
Parpoti Rani Barman
Monju Rani Barman
Hiru Chandra Barman
Muchu Chnadra Barman
Dipaly Rani Barman
Boidya Chandra Barman
Bogi Rani Barman
Prakash Chandra Barman
Shila Rani Barman
Shimul Chandra Barman
Gautam Chandra Barman
Tara Rani Barman
Babita Rani Barman
Mani Chandra Barman
Shuren Chandra Barman
Pushpa Rani Barman
Munna Chandra Barman
Tayeba Begum Lipi
Alok Raj Bongshi
Bithul Chicham
Ostina Chiran
Tapan C. Das
Biswajit Das
Bipin Das
Tishanker Das
Ashim Das
Bishwarup Das
Shakil Das
Sobuj Das
Sajib Das
Prasenjit Das
Adhir Das
Jiban Chandra Das
Gopal Chandra Das
Pritan Chandra Das
Mani Shanker Das
Jubaraj Das
Pankaj Das
Jhulon Das
Shattarup Das
Sudhir Chandra Das
Shimul Datta
Shrimoti Devi
Lakshmi Devi
Provat Dlopo
Md. Lal Maud Fakir
Anisuzzaman  Faroque
Farhana  Ferdausi
Tarun Ghosh
Subol Hajong
Ajit Hajong
Sindhubala Hajong
Arti Hajong
Sopna Hajong
Dron Hajong
Selim Hajong
Bithi Hajong
Subitra Hajong
Bhim Hajong
Binjuli Hajong
Bondona Hajong
Shanta Hajong
Shikha Hajong
Jhuma Hajong
Jontu Hajong
Chahela Hajong
Binoy Hajong
Dipaly Hajong
Biswajit Hajong
Jitu Hajong
Ashim Halder
Saidul Haque Juise
Mehedi Hasan
Emdadul Hoque Topu
Imran Hossain
Syed Fida Hossain
Safiha Hossain
Maynul Islam Paul
Sarah Jabin
Yasmin Jahan
Md. Jaidul
Bipul Jangcham
Jinnatun Jannat
Khushi Kabir
Mohosin Kabir
RA Kajol
Kazi Sydul Karim
Azizee Fawmi Khan
Raj Kishore
Basu Malakar
Farah Naz Moon
Md. Mostafa
Bijonti Mree
Ringchi Mree
Khamree Mree
Md. Musharaf Musa
Lutfun Nahar
Nijhum Zannatun Nahar
Ema Nokrek
Hanif Pappu
Trishna Paul
Abdur Rab
Mahbubur   Rahman
Shree Ram
Mojes Rema
Bickrom Rema
Moumita  Rema
Jewel A  Rob
Animes Roy
Nayan Roy
Pijush Roy
Jeny Ruram
Monjur  Sagor
Shimul Saha
Shyamal Sarker
Reetu  Sattar
Shahriar Shaon
Arpita Singha Lopa
Emran Sohel
Mohammad Sultan
Fareha Zeba