Putra Hidayatullah was born in Aceh, Indonesia, in 1988. He is a teacher, art curator, and storyteller – and one of the harvesters for documenta fifteen. Both the stories and his curatorial ideas focus on issues of space, violence, and memory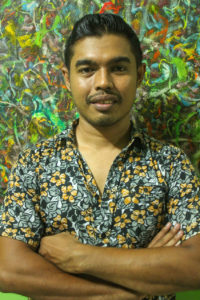 In 2014, representing Tikar Pandan collective, he held an exhibition entitled Debris of War at Taman Ismail Marzuki (TIM) Jakarta, in collaboration with ruangrupa and the Jakarta Arts Council (DKJ). A year later he was one of the curators of the Jakarta Biennial 2015. By the end of 2019, he became the curator for an exhibition entitled The Hallway of Memory organized by KontraS (Commission for Missing Persons and Victims of Violence). Two years later, he was involved as one of the curators for the exhibition Present Continuous at Museum MACAN (Modern and Contemporary Art in Nusantara), Jakarta.
Putra also writes essays and short stories. One of his latest short stories Kebun Jagal (Butcher's Garden) was selected by KontraS to be published in an anthology with 15 young Indonesian writers entitled Berita Kehilangan (News of Loss). He completed his study in Contemporary Art and Art Theory of Asia and Africa at the School of Oriental and African Studies (SOAS), University of London. Currently he is teaching at the University UIN Ar-Raniry in Banda Aceh, Indonesia, with a focus on art history. In 2022, together with several university students, he established Sajan, a platform for sharing resources related to the issue of space, art, and visual culture.