Sa Sa Art Projects is an artist-run initiative dedicated to experimental and critical contemporary art practices. It was founded in 2010 by the arts collective Stiev Selapak and operated from a historic and vibrant apartment complex known as the White Building in Phnom Penh until 2017, when the building was demolished for new development.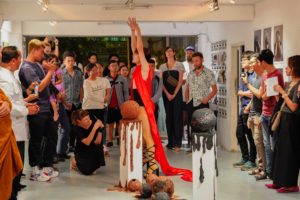 At its new location, Sa Sa Art Projects has shifted toward a stronger engagement with Cambodian young artists and art graduates while continuing to build a deeper dialogue with artists within Asia through its creative education programs, exhibitions, its signature Pisaot artist residency, and other collaborative projects.
With its activities, Sa Sa Art Projects addresses Cambodia's lack of infrastructure for contemporary art education and engagement. By not being bound to a rigid organizational structure, Sa Sa Art Projects is able to evolve organically and adapt to the changing context and needs of the communities it works with.
Sa Sa Art Project's artistic contribution to documenta fifteen is titled Dar Lean (2022), the name of a Cambodian ritual undertaken after the rice harvest season. During Dar Lean, farmers return to share food, exchange ideas, rest, and reflect with one another, whilst celebrating and paying their respects to the lands and waters. Sa Sa Art Projects wants to keep Dar Lean's spirit of strengthening solidarity alive in two physical sites between Phnom Penh and Kassel; the project is an attempt to facilitate an art ekosistem between Cambodia and the world. With documenta fifteen funds, a community studio has been set up in Phnom Penh, in order to practically address the lack of accessible working spaces for local artists. The collective is also hosting a series of events and programs in the framework of lumbung program at Sandershaus / Haferkakaofabrik.
Invited participants
Ang Choulean
Chanveasna Chum
Mit Jai Inn
Samnang Khvay
Aung Ko
Dara Kong
Siden Kong
Lyna Kourn
Nge Lay
Sokchanlina Lim
Vuth Lyno
Ngoc Nau
Carsten Nicolai
Sopheap Pich
Samnang Sam
Khvay Samnang
Pinaree Sanpitak
Leang Seckon
Jakkai Siributr
Thida Sok
Lim Sokchanlina
Sutthirat Supaparinya
Zen The
Ashley Thompson
Lyno Vuth
Sophia Young