El Warcha – meaning "the workshop" in Arabic – opened its doors in 2016 in the Medina, the old town, of Tunis. Its goal is to foster collective action and learning by developing art installations and urban furniture.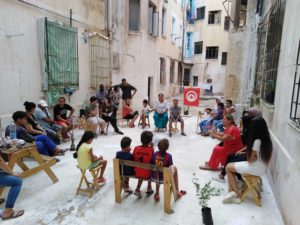 El Warcha initially focused on devising practical elements with local residents of all ages, designing and building planters, playgrounds, bins, or lighting. Over time, the collective developed alternative pedagogical methods based on participatory design, intended to allow for mutual growth and reimagining our living environment. El Warcha thus grew into a space for collective movement between discussion and making. By favoring experimentation as a form of reflection and knowledge exchange, the aim is to put everyone on equal footing, for example through conceiving intuitive assembly techniques that do not necessitate prior technical mastery and use commonly available material to allow everyone to test their ideas and make prototypes, but also to fail and start over.
In 2018, El Warcha began expanding, as some of its team members moved abroad. The first workshop outside of Tunisia was founded in London, followed by others in Lisbon, Davis, and Nefta, in the Tunisian desert. El Warcha grew organically through this international multiplication, forming an engaged community that shares a common vision despite the distance and diversity of contexts. The challenges of organizing across borders and experiential divides regularly bring about points of convergence between these trans-local realities.
For documenta fifteen, El Warcha has experimented with new ways of occupying and inhabiting the space of the Fridericianum and its surroundings. They have constructed an open and welcoming space that enables collective, playful practices. In this space, a wooden boxing ring constructed earlier in Tunis' Hafsia square for a televised quiz might be transformed into a stage where artists can challenge each other. A floating cinema built for a theatrical procession in the coastal town of El Kram can be adapted to drift on the Fulda river. Rather than showing pre-existing artworks, the exhibition space has been transformed into a noisy workshop, allowing for a collective work-in-progress. Wooden sketched furniture and prototyped installations, constructed with various found materials, have been rearranged in a library. This library is exemplary of El Warcha's collaborative design practice, where knowledge formation does not happen through books, but through the very practice of making as a form of language and a tool for mediation.
Invited participants
Aziz Aissaoui
Aziz Romdhani
Benjamin Perrot
Chiraz Guellela
Marlene Halbgewachs
Naomi Nantois Meadow
Radhouane Boudhraa
Selma Kossentini