Event
Design Process Workshop
by El Warcha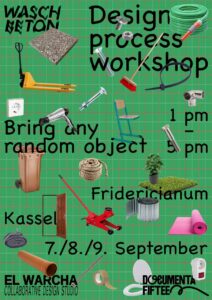 Furniture can help formulate an architectural attitude. However, the importance of constructive decisions is often overestimated. We design out of necessity, not just to create, and the availability of materials determines the form.
This workshop series by lumbung artist El Warcha and the collective Waschbeton deals with design processes and the conversion of everyday objects.
The participants are asked to bring an (unused) object of their choice, which will be transformed into a new piece of furniture.
Invited Guests
Max Maurer (Waschbeton)
Jonas Wenner (Waschbeton)
Directions
El Warcha, 1st floor, East wing
Friedrichsplatz 18, 34117 Kassel
ˇ