Komîna Fîlm a Rojava (The Rojava Film Commune) is a collective of filmmakers based in the eponymous autonomous region in northern Syria. It works across the region to develop and build infrastructures for filmmaking, screening, and education, fostering new audiences and an awareness of filmmaking as a medium for empowerment and a tool for liberation.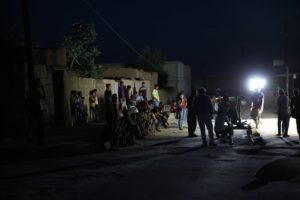 Even before the start of the war in Syria, the region of Rojava suffered from a lack of investment in arts, culture, and education, leading parts of its youth to move to other regions, such as Damascus, Aleppo, Homs, and Hama, to pursue their education in the arts. By 2011, all the cinemas that had opened in the region since the 1940s had closed. In addition, the Syrian state practiced a violent politics of forced assimilation of Indigenous communities leading to an erasure of their specific histories and artifacts. The war in Syria magnified these problems and brought further challenges as the Rojava region suffered attacks and occupation from Daesh. It is this backdrop against which Komîna Fîlm a Rojava was founded. Their intention was to bring the community back to cinema and filmmaking. They undertook a range of activities, including the Rojava Film Academy, a one-year educational program providing theoretical and practical classes, the production of films and documentaries, and infrastructure-building, all focused on giving a voice to women and ethnic and religious communities. The academy is self-organized with students and commune members organizing its program taught by local and international film professionals.
For documenta fifteen, the collective curates a program of the commune's archival and recent films, as well as examples from Kurdish film history. The program includes discussion panels with filmmakers and members of the commune and, in the Fridericianum, a video installation outlining the Rojava Film Academy as a model for alternative education.
Invited participants
Mohammad Haman
Abdi Hussien Ibrahim
Hamo Mahmoud
Mohammad Sevinaz
Hinde Shero