Nino Bulling works as a freelance cartoonist and author in Berlin. Shorter and longer works by Nino have been published in book form, online, in anthologies, or in self-production since 2012. In 2017, Nino published the graphic poem Lichtpause (Blueprint). Bruchlinien. Drei Episoden zum NSU (Fault Lines. Three Episodes on the National Socialist Underground), co-authored with Anne König, was published by Spector Books in 2019.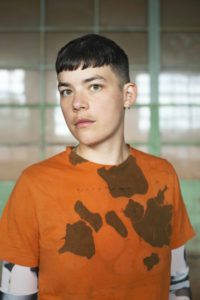 Nino's work operates at the boundary between documentary and speculative fiction and examines the possibilities of reality-based visual narrative beyond realistic portrayal. Language and drawing are equal protagonists here, and are taken from reality, examined, modified, and amalgamated. It is devoted to critical contemporary themes such as racism and right-wing terror, as well as the arms industry. Further, it explores universal as well as personal questions on friendship and belonging.
Bulling's forthcoming and largest publication to date, titled abfackeln (firebugs) is co-published by Colorama and Edition Moderne with the support of documenta fifteen. Equal parts hedonistic and poignant, and set against a backdrop of insidious climate change, abfackeln follows a couple who navigate the intermediary and ambiguous experiences of gender, intimacy, bodies, and kinship.
For documenta fifteen, Bulling presents selected drawings from abfackeln at Hafenstrasse 76, as well as smaller hand-painted drawings on silk that expand on motifs and scenes from the book. Together with the Lebanon-based collective Samandal Comics, they are conducting a workshop with queer, trans, and gender-nonconforming artists that culminates in a collaboratively-created series of books, Samandal, to be published with Steidl and in conjunction with Kunsthaus Göttingen. Bulling is also part of a German comic artists' union: a nationwide network, currently in formation. For documenta fifteen, the union is publishing a 60-page newspaper comprising comics, interviews, and a collective manifesto.
Selected recent exhibitions of Nino's work include the Brandenburgisches Landesmuseum (2021); HMKV Dortmund (2019); and the 8th Festival für Fotografie f/stop, Leipzig (2018). Nino taught comic/illustration at various international institutions, including the Kunsthochschule Kassel. In 2021/22 Nino is a Fellow at the Akademie Schloss Solitude. Nino's new book, due in fall 2021, deals with trans* identity and love at a time of fundamental transformation of living environments through climate and ecology.
Invited participants
Samandal Comics x Nino Bulling
Mloukhiyyé Al-Fil
Bilge Emir
Michel Esselbrügge
Aki Hassan
Nour Hifaoui
Joseph Kai
Bea Kittelmann
Romy Matar
Nygel Panasco
Barrack Rima
Jo Rüßmann
Natyada Tawonsri
Comic Artists' Union
Sheree Domingo
Tinet Elmgren
Bilge Emir
Jul Gordon
Eva Gräbeldinger
Marc Hennes
Jiaqi Hou
Ilknur Kocer
Stefanie Leinhos
Ansgar Lorenz
Eva Müller
Malika Teßmann
Chiny Udeani
Marijpol
Exhibition Hafen 76
Katja Lonzeck – textile design
Marlene Oeken – scenography