Richard Bell lives and works in Brisbane. He works across painting, installation, performance, and video. Bell is one of Australia's most significant artists and his work explores the complex artistic and political problems of Western, colonial, and Indigenous art production. He grew out of a generation of Aboriginal activists and has remained committed to the politics of Aboriginal emancipation and self-determination.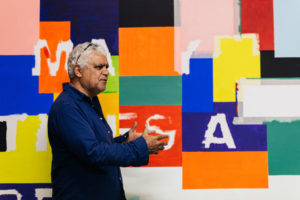 The Aboriginal Tent Embassy celebrated its 50th anniversary in January 2022. It has been long years of resistance since First Nations activists set up camp under a beach umbrella in front of Parliament House in Canberra, Australia. Since 1972, the Tent Embassy has inspired camps across the continent.
Bell's Tent Embassy (2013–ongoing) is a part of this legacy. His artistic contribution to documenta fifteen features the tent that has traveled many exhibitions, this time in Friedrichsplatz. Tent Embassy seeks to facilitate cultural sharing, political discourse, and solidarity with struggles around the world. All talks are recorded and uploaded online for anyone to access. Along with lumbung artists, lumbung members, and Europe-based speakers, Bell invites Digi Youth Arts—a Meanjin-based (Brisbane) organization—to contribute. The organization cultivates and amplifies Aboriginal and Torres Strait Islander youth stories and leadership through arts practices.
Bell's protest and text paintings from the 1970s and 1980s are on display alongside a new iteration of his Duchampian urinal. Pay the Rent features a continuously counting sign—which shows the debt owed to Aboriginal people by the Australian government from 1901 to present.
In 2023 Bell will be presenting Tent Embassy at Tate Modern, London. In the past, Bell has exhibited in a number of solo exhibitions at important institutions in Australia and the US. He is represented in most major Australian national and state collections.  In 2021 Bell has a major solo exhibition at the Museum of Contemporary Art Australia in Sydney. In 2019 Bell took Embassy to the Venice Biennale as a collateral event. He has presented his work at Padiglione d'Arte Contemporanea Milan (2019); Gertrude Contemporary, Melbourne (2018); Art Gallery of New South Wales, Sydney (2017); and Stedelijk Museum Amsterdam (2016); the 20th Biennale of Sydney (2016); the Jerusalem Show VIII (2016); Performa 15, New York (2015); 16th Jakarta Biennale (2015); 8th Asia Pacific Triennial of Contemporary Art, Brisbane (2015); Perth Institute of Contemporary Arts (2014); Sakàhan, the National Gallery of Canada's largest show of international Indigenous art, Ottawa (2013); and the 5th Moscow Biennale of Contemporary Art (2013). In 2003, Bell was the recipient of the Telstra National Aboriginal Art Award.
Invited participants
Alethea Beetson
Sutapa Biswas
Tania Bruguera
Digi Youth Arts
Dave Fernando
Gary Foley
Sylvia McAdam
Alan Michaelson
Josh Milani
Wanda Nanibush
The Black Archives
Vivian Ziherl