Victoria Lomasko is a Russian contemporary artist based in Moscow. She is one of the harvesters for documenta fifteen. Lomasko has a degree in Graphic Arts from Moscow State University of Printing Arts. Her book Other Russias is a collection of "graphic reportages", a self-described style of art making and record keeping. It was published in six countries. During the past few years, mural making has become a main part of her practice.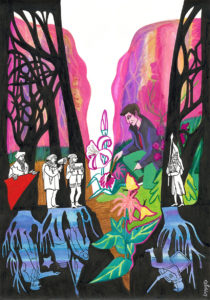 Lomasko's art is based on the synthesis of text and images. In her graphic reportages, text is an important element as drawing is. In her practice, writing essays and poems precedes the sketching of monumental works so she refers her murals as "frozen poems". Her art has developed from Soviet style (the artist used to call herself The Last Soviet Artist) to fantasy compositions that are based on real events and include reworked sketches from nature. Moving from documentary depicting concrete cases and from journalism to a narrative on big historical processes using symbolic language, Lomasko continues describing the modern life.
Her work has appeared in Art in America, The Guardian, GQ Russia, The New Yorker and in exhibitions around the world including Kunsthalle Wien in Vienna, Austria (2020); Garage Museum in Moscow, Russia (2017); Miami University Humanities Center in Oxford, USA (2019); GRAD at Somerset House, London, UK (2018); and the Cartoonmuseum in Basel, Switzerland (2019).