LE 18 is a multidisciplinary cultural and residency space established in 2013 and located in the medina of Marrakech. It aims to provide time and space for research, creation, encounter, mutual learning and the crosspollination of knowledge.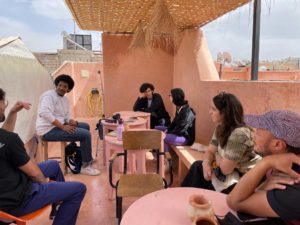 The space has developed organically and through a collaborative, open ethos, (un)learning from and in dialogue with the various communities it works with, in an institutional practice based on horizontality and collaboration.
Through a fluid network of collaborators and various formats including exhibitions, residencies, conversations, workshops, and publications, LE 18 has become a collective learning platform, listening to, and critically tackling the multiple dynamics, processes, and infrastructures shaping the cultural, political, and economic lives of their local and trans-local ekosistem.
Currently, LE 18's long-term research lines and platforms unfold a glossary of key terms encompassing and intersecting: photography and image-making in Morocco and the region; the politics and poetics of water and commoning; oral arts, cultures, and practices; processes of reactivation of collective memory, and participative archiving; food sovereignty, culinary cultures, and communal gardening; independent publishing, and processes conducive to collective making.
At documenta fifteen, LE 18 transforms its exhibition space at WH22 into a place for conversations and exchanges around the processes, challenges, and failures that emerged during the preparation for and participation at documenta fifteen. It therefore opens itself to addressing a sense of exhaustion and (self)-exploitation triggered by major art events. In this sense, it lends itself to the exploration of the structures cultural workers operate in and offers to collectively and openly deconstruct them.
As the title A Door to the Sky—or a Plea for Rain suggests, the site is reinforced as a space-time to rest. As such, it is be open to all invited artists at documenta fifteen as well as to the general public in order to find and share modes of regenerating and relearning after crisis.
Invited participants
In the first circle
Francesca Masoero
Laila Hida
Nadir Bouhmouch
Soumeya Aït Ahmed
In the second circle
Amine Lahrach
Audi George Bajalia
Carlos Perez Marin
Montasser Drissi
Shayma Nader
From our wider circle
Abdellah Hassak
Ahmed Bennys
Ahmed Bouanani
Ahmed Boughaba
Ali Essafi
Alioucha Tazi
Archives Bouanani Collective
Assia Djebar
AWAL
Basma Rkioui
Benjamin Verhoeven
Caravane Tighmert
Corinne Wiss
Elisa Zorzi
Farida Benlyazid
Firas Hamdan
Grocco
Hadia Gana
Hamza Azeroual
Hicham Bouzid
Imane Zoubi
Jumana Emil Abboud
Khadija El Abyad
Le Brouillon
Léa Morin
Les Mamans Douées
Louisa Aarass
M'barek Bouhchichi
Meriem Benmhamed
Meryem Fekhari
Mohamed Oubenal
Mounir Rahmouni
Nabil Himich
Nassim Azarzar
QANAT
Reem Shadeed
Rim Mejdi
Sara Frikech
Sofia Fahli
Soufiane Lakrak
Tamo Chiker
Tekchbila
Toufiq Ennouri
Touda Bouanani
Troupe Asnimer
Troupe Cheikh Hammou
Untitled duo (Soukaina Aboulaoula, Yvon Langué)
Yasmine Benabdallah
Yassine Rachidi
Zakaria Alilech
Zakia Kadiri