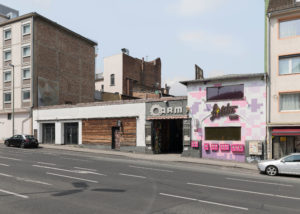 Werner-Hilpert-Strasse 22 is famous in Kassel. The building complex's Club A.R.M. and Lolita Bar were important nightlife spots. Only the Lolita Bar is still in business today—and its beer garden in the courtyard is open during the 100 days. The building was built in the nineteenth century as the headquarters of Gundelach wine shop.
The Question of Funding has set up a gallery space with art by artists and a collective from Palestine, and is also working on developing its own currency. Alice Yard, from Trinidad and Tobago, and LE 18, from Marrakesh, Morocco, are also represented in the WH22. Here, too, Alice Yard hosts a residency program for 100 days. Nhà Sàn Collective is offering lodging in a space hosted by queer folks and cultivating a garden of migratory plants and narratives. Party Office b2b Fadescha is organizing its own club evenings and concerts with DJs, producing inclusive, intersectional, trans*feminist, and queer-crip spaces.
Directions
Werner-Hilpert-Straße 22, 34117 Kassel
ˇ
Accessibility
Access:
Most of the exhibition rooms are wheelchair accessible. Some rooms are cramped. The building has an elevator (117 x 149 cm). The beer garden is also accessible without steps. Part of the courtyard consists of cobblestones, but there are also ground-level areas that are wheelchair accessible. If you have any questions when you are on the premises, please do not hesitate to contact our staff.
Bathrooms:
There is a regular, barrier-free bathroom on the bottom floor. It can be reached by elevator.
Parking:
You can find a detailed map of the city of Kassel here (in German language). Selection in the topic layer "Themen-Layer": Verkehr & Mobilität + Behindertenparkplätze
lumbung members & artists
Lumbung Program on site
Walks and Stories on site