Artist and filmmaker Pınar Öğrenci lives in Berlin. She is the founder of MARSistanbul, an art initiative launched in 2010. Öğrenci has a background in architecture, which informs her poetic and experiential video-based works and installations that accumulate traces of material culture related to forced displacement and disappearance across geographies.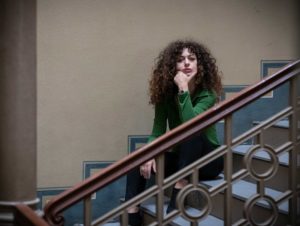 Her works are decolonial and feminist readings from the intersections of social, political, and architectural research, human stories, everyday practices, music and literature. They follow agents of migration such as war, state violence, assimilation, collective movements, natural disasters, industrial and urban development projects.
For Aşît (2022), her new film for documenta fifteen, Öğrenci returns to her father's hometown, Müküs, within the mountainous region in southern Van. On Turkey's border with Iran, this former capital of the Urartian civilization, and the Armenian Vaspuragan dynasty, today has a dense urban population of mainly Kurdish speaking communities. The town enjoyed a multilingual education and heritage in Armenian, Kurdish, Farsi, and Arabic until 1915. Aşît is inspired by Stefan Zweig's final novella The Royal Game (Schachnovelle, 1941)—a psychological thriller in which chess becomes a survival mechanism in the face of fascism.
Aşît, meaning avalanche and disaster in Kurdish, refers both to the threat of avalanche that disconnects Müküs from the rest of the world and to "Meds Yeghern" (The Big Disaster) in 1915, when 1.5 million Armenians were deported, killed, or forced to leave Anatolia. The film is also an act of mourning. Sewn paper tissues which she has been using in her recent works, this time collectively produced by women who suffered by armed conflict in Van, reappear as an installation element.
Previously, her works have been exhibited widely at museums and art institutions including at Times Art Center, SAVVY Contemporary, and Kunstraum Bethanien Kreuzberg, all in Berlin; Art Encounters Biennial, Timișoara; Gwangju Biennial; Athens Biennial; Tensta Konsthall, Stockholm; Survival Kit, Riga; Kunst Haus Wien-Museum Hundertwasser; the Istanbul off-site project for Sharjah Biennial 13; MAXXI Museum, Rome; SALT and Depo, both in Istanbul. Her first solo exhibition abroad was realized at Kunst Haus Wien in 2017. Öğrenci's first documentary film Gurbet is a home now was selected for the National Documentary Film Competition by the 40th Istanbul Film Festival and won the Special Jury Prize at the DOCUMENTARIST Istanbul Film Festival in 2021. She currently teaches on the Master of Arts program Spatial Strategies at the Weißensee Academy of Art in Berlin.
Invited participants
Ayşe Dorak
Didare İşleyen
Nuriye İşleyen
Neşe Polat