Nguyễn Trinh Thi is a Hanoi-based filmmaker and artist. Traversing boundaries between film and video art, installation and performance, her practice currently explores the power of sound and listening, and the multiple relations between image, sound, and space, with ongoing interests in history, memory, representation, landscape, indigeneity, and ecology.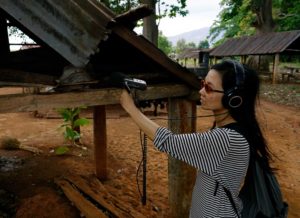 Nguyễn uses montage to compose her work, drawing on different image media, from her own audio and visual recordings to found footage and still images from postcards, photography, newsreels, Hollywood films and ethnographic footage. She is also interested in incorporating new media into current works, including organic materials and natural forces.
At documenta fifteen, Nguyễn presents a new installation developed through working with organic materials and non-human forces, along with the experimental use of sound and image. The project is inspired by the auto-biographical novel Tale Told in the Year 2000 by Bùi Ngọc Tấn, which was published in 2000, but is forbidden in Vietnam until today. The novel depicts life in detention camps in northern Vietnam from the 1960s through 70s. The writer details the forests' flora and fauna: ecosystems that became sites where he and other prisoners were forced to perform hard labor.
At the Rondell in Kassel—with its historical torture chambers—Nguyen resituates a scene from the book by presenting a sculptural installation of chili plant clusters. These are lit to project an immersive shadowy forest on its surrounding walls. A wind and wi-fi system set up in Vietnam's Vinh Quang- Tam Da area triggers the Kassel installation of fans, audiovisual effects, sound, and the haunting playing of the sáo ôi flute, an Indigenous musical instrument used by groups in the Northern mountainous areas including the Mường, Tày, and Nùng ethnic minorities.
Her films and video art works have been previously shown at festivals and art exhibitions, including 9th Asia Pacific Triennial of Contempory Art, Brisbane (2018); 21st Biennale of Sydney (2018); International Film Festival Rotterdam (2016); Jeu de Paume, Paris (2015); CAPC musée d'art contemporain de Bordeaux (2015); 13th Lyon Contemporary Art Biennale (2015); Asian Art Biennial, Taichung (2015); 5th Fukuoka Asian Art Triennale (2014); 4th Singapore Biennale (2013); 15th Jakarta Biennale (2013); and International Short Film Festival Oberhausen (2011, 2012). In 2009, Nguyen founded Hanoi DOCLAB, an independent center for documentary film and the moving image in Hanoi. In 2015–16, she was a fellow of the DAAD Artists-in-Berlin Program.
Invited participants
Jamie Maxtone Graham
Lê Quang Minh
Lê Thuận Uyên
Nguyễn Xuân Sơn
Phạm Chí Khánh
Phạm Hoàng Gia Khang
Uông Thanh Ngọc