Project Art Works is a UK-based collective of artists and makers. They produce and disseminate art underpinned by radical approaches to neurodiversity, rights, and representation.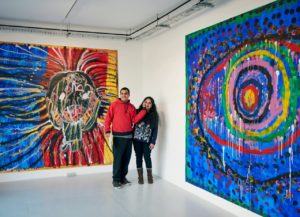 The term neurodiversity, composed of neurology and diversity, has been forming into a concept and a growing movement based on the fundamental assumption of neurological ­diversity and the impact of this diversity on perceptual processes, behavioral patterns, and forms of representation.
Project Art Works' program evolves through supported studio practice and radiates out into multiple collaborations, exhibitions, co-commissions, movies, publications, and digital outputs. Personalized and holistic studio environments are recreated wherever a project takes place. The studio is a place of level hierarchy where events and happenings unfold, revealing the lived experience and creative potential of all those involved (as can be seen in this video). Artists and makers work together in purposeful collaboration through total communication that utilizes language or gesture, sound, signing, and empathy.
The collective interrogates and promotes creative and sustainable models of artist development and care through practice-based research, productions, and partnerships. The work of neurodiverse artists is disseminated via social media, digital platforms, and cultural and care collaborations nationally and internationally. Through aspirational planning, free training, and advocacy, families and caregivers are given opportunities to utilize their knowledge and skills to better navigate and harness health and social care systems and explore bespoke models of care that improve their lives. In recognition of its practice which celebrates and raises awareness of the dynamic and extraordinary contribution neurominorities and care givers make to society, art and culture, Project Art Works was shortlisted for the Turner Prize 2021.
The artistic contributions to documenta fifteen by Project Art Works deal with how it is possible to construct an artistic terrain that encourages inclusive forms of mutual support and care.
An evolving installation at the Fridericianum includes paintings and drawings and recreates their studio environment in Hastings. The works displayed include an evolving series of large-scale drawings, cosmologies of care. These are created through facilitated conversations and encounters with artists, different participating groups, and audiences in order to articulate the complex networks of relationships and systems that form models of care from around the world, and are shown with a sound installation of voices and environments of neurominorities and caregivers.
At the Stadtmuseum Kassel, the space is used in a hybrid way, as an exhibition and working space. There, workshops form part of documenta's Meydan program, and provide a welcoming access point for diverse audiences and invited groups—generating collaboratively-made solar prints and drawings.
Invited participants
Kate Adams
Aida Ashall
Connor Ashley
Luke Bebb
Helen Carlton
Johnny  Caroll Pell
Paul Colley
Andrew Cooper
Tim Corrigan
Jessica Courtney Bennett
Oliver Crowther
Natalie Dance
Mark Daniels
Sara Dare
Dion Downes
Sarah Dunn
Stanley Ellis
Gemma Evans
Amy Fenton
Patricia Finnegan
Siddharth Gadiyar
David Geall
Jo Goldman
Jack Goldsmith
Charlotte Hanlon
Lucy Jenion
Neville Jermyn
Annis Joslin
Eden Kötting
Thomas Lepora
Lucy
Holli Macnamara
Claire Matthews
Leila Mcmillan
Louise Newham
Sean Ormonde
India O'Sullivan
Magda Pata
Sharif Persaud
Phoebe Ellen Prebble
Peter Quinnell
Gabriella Rapisarda
Michelle Roberts
Wendy Routley
Georgie Scott
Carl Sexton
Maya Shapiro Steen
Will Shepherd
George Smith
Sam Smith
Darryl Spencer
Esther Springett
Charlotte Stephens
Martin Swan
Sarah T
Katie Taylor
Charlie Thomas
Christopher Tite
Annie Rose Waller
Marion Willis