Subversive Film is a cinema research and production collective that aims to cast new light upon historic works related to Palestine and the region, to engender support for film preservation, and to investigate archival practices. Their long-term and ongoing projects explore this cine-historic field including digitally reissuing previously overlooked films, curating rare film screening cycles, subtitling rediscovered films, producing publications, and devising other forms of interventions. Formed in 2011, Subversive Film is based between Ramallah and Brussels.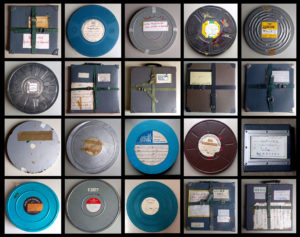 For documenta fifteen, Subversive Film has curated a cinematic program around the screening of a recently restored film, shedding light on the overlooked and still undocumented anti-imperialist solidarity between Japan and Palestine. After meeting in Tokyo with Masao Adachi, acclaimed director of different experimental agit-prop films and former member of the Japanese Red Army, Subversive Film was entrusted with a collection of 16mm films and U-matic tapes, dozens of posters, and a full library safe-guarded by a Japanese solidarity group in Tokyo. The material, considered either lost or unknown to the public, was sent to Japan in several waves from 1967 to 1982.
The centerpiece of Subversive Film's contribution to documenta fifteen is a speculative documentary collectively made by British, Italian, German, Palestinian, Egyptian, Iraqi, and Japanese filmmakers. The imperfect aura of the film bears witness to the changing political attitude of the internationalist solidarity movement that took center stage during the long 1960s.
In Kassel, the solidarity relations between Tokyo, Palestine, and the world unfold in a nomadic film program around different disassembled fragments of the restored film, interlaced with a live symposium. With this open invitation to facilitate assembly through forms of assemblage, re-assemblage and montage of a restored film, Subversive Film proposes to collectively reflect on possible processes of unearthing, restoring, and momentary disclosure of the imperfect archives of transnational militant cinema. By bringing back into circulation these moving images, they carefully reactivate present-day solidarity constellations, reflecting the lively utopia of a worldwide liberation movement.
Mohanad Yaqubi is a filmmaker, producer, and one of the founders of the Ramallah-based production house Idioms Film. He is also a researcher at The Royal Academy of Fine Arts (KASK) in Gent. Reem Shilleh interlaces research, moving image, curatorial, editing, archival, and writing practices to question the infinite formations of memory and collectivity. Both Reem and Mohanad are co-founders of The Kitchen in Brussels.
Over the years their work has been shown and presented at Doc's Kingdom, Porto (2019); Sharjah Biennial (Offsite: Ramallah, 2017); Yamagata International Documentary Film Festival (2017); Forum Expanded – Berlinale, Berlin (2017); Homeworks Festival, Beirut (2013); Al Ma'mal Foundation, Jerusalem (2012); Museum of Yugoslav History, Belgrade (2012); and Bilbao International Festival of Documentary and Short Film (2011). The films produced through and by Subversive Film have been screened at Toronto International Film Festival; Berlinale; International Film Festival Rotterdam; Carthage Film Festival, Tunis; Museum of the Moving Image, New York; and Viennale, Vienna, among others.
Invited participants
Aoe Tanami
Fadi Abu Nemeh
Masao Adachi
Mustafa Abu Ali
Casey Asprooth Jackson
Elettra Bisogno
Don Catchlove
Jim Cranmer
Doha Film Institute
Gent and GEM Kab Concordia
Victor Haddad
Bilal Hibri
Riuychi Hirokawa
Samir R. Hissen
Tom Hollyman
Iwanami Productions
KASK School of the Arts
Hatsuyo Kato
Kristine Khouri
Kitchen BXL
Jack Madvo
T. Maki
Monica Maurer
Mineo Mitsui
Rami Nihawi
Samir Nimr
Sami Salamoni
Rasha Salti
Ghaleb Shaath
Ismail Shammout
Baker Sharqawi
Sharjah Art Foundation
SHIRAK
Khaled Siddik
Wakamatsu Productions
Sabih Al Zoohiri