Event
38. Kasseler Dokfest: Conjugating the Magnetic Past: Subversive Film, Vol. 1
by Subversive Film
Location: Kleines BALi / KulturBahnhof Kassel, Rainer-Dierichs-Platz 1, 34117 Kassel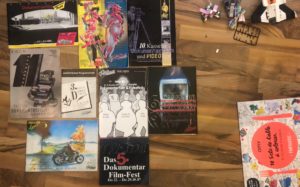 For the second time, documenta fifteen is collaborating with the 38. Kasseler Dokfest, which will take place on-site from November 16­–21, 2021, and online until November 26. Together with Kasseler Dokfest, documenta fifteen hosts a selection of projects.
Conjugating the Magnetic Past: Subversive Film, Vol. 1
Public viewing of video tapes from the festival archive. Selected and hosted by Subversive Film (Reem Shilleh and Mohanad Yaqubi, lumbung artists)
As part of the research for its contribution to documenta fifteen, the lumbung artist collective Subversive Film has visited several image archives in Kassel, among them the Kassel Dokfest archive. The cinema research and production collective intervenes in archives in a research-oriented way and initiates various archival measures such as restoration, digitization, subtitling and issuing of publication in order to make previously over-looked films visible again.
For the 38. Kasseler Dokfest, Subversive Film hosts a public viewing of spontaneously selected videotapes from the festival archive in order to probe its open and exploratory archival practice and put it up for discussion. Christian Hoffmann, who was part of the program team in the festival's founding years, will join the discussion. The event was prepared in dialogue with Tobias Hering, who as a freelance curator has been involved in numerous programs at the Kassel Dokfest since 2011. The screening is conceived as the beginning of an ongoing exchange with a view to a second intervention during documenta fifteen and a final event at the 39. Kasseler Dokfest in 2022.
All events of the 38. Kasseler Dokfest and further information can be found here.
Date
Friday, November 19, 2021: 12.30–15.30 pm
Language
The event will take place in English.
Tickets
You need to buy a ticket for this event. All information about the ticket sale can be found here.
COVID-19 notice
The "3G+" guideline applies to all Dokfest film screenings and supporting programs. Please come prepared with your proof of status as:
Vaccinated (Geimpft) with proof of complete vaccination
Recovered (Genesen) with proof of a full recovery (maximum 6 months ago)
Tested (Getestet) with an official negative test (PCR test not older than 48h)
Additionally, the festival requests that the following measures be observed at all film screenings and social programs:
Compulsory masks – medical mask until you take your seat at the cinema
Distancing – at least 1.5m distance
Hygiene – regular hand washing and disinfection
See more information here.
Barrier-free
A barrier-free access to the BALi cinemas is possible via an elevator. The elevator is located on the left of the main entrance behind a glass door. The doorbell is also located at the door.
The barrier-free toilet (including a changing table) is located on the 1st floor.
This event is held in English.
Directions
Kleines BALi / KulturBahnhof Kassel, Rainer-Dierichs-Platz 1, 34117 Kassel
Infos
Location: Kleines BALi / KulturBahnhof Kassel, Rainer-Dierichs-Platz 1, 34117 Kassel