Established in 2005, Jatiwangi art Factory (JaF) is a community that embraces contemporary arts and cultural practices as part of the local life discourse in a rural area.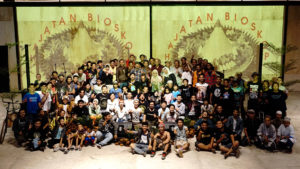 Their manifold activities, always involving the local public, include a video festival, a music festival, a residency program, a discussion series, and a TV and radio station.
At the beginning of the twentieth century, its clay industry made Jatiwangi the biggest roof-tile producing region in Southeast Asia. A hundred years later, in 2005, using the same clay, JaF encouraged the people of Jatiwangi to create a collective awareness and identity for their region through arts and cultural activity. In doing so, JaF tries to cultivate clay with more dignity and to raise the collective happiness of the community.
The project Kota Terakota thus marks the beginning of a new clay culture for Jatiwangi, remodelling the city based on its people's desires and their collective agreement. In this sense, Kota Terakota speaks to "terra" not only as a material, but also as land, territory, or idea.
For documenta fifteen, the Jatiwangi art Factory has developed the New Rural Agenda—a transnational summit among rural community networks. The summit is preceded by the New Rural School, a series of knowledge and narrative exchanges in the form of conferences, amateur radio talks, and the Bulletin Rural School. It emphasizes diverse perspectives from below and peripheries, challenging uniform ideas of progress and sustainability. New Rural Agenda's summit will be held in Kassel where the stakeholders will convene and produce Piagam Martabat Penghuni Bumi—the Earth Inhabitants' Treaty of Dignities.
Previously, the work of JaF has been shown at various venues in Indonesia and abroad, including Museum of Modern and Contemporary Art, Seoul (2020), the Asian Art Biennial, Taichung (2017), the Gwangju Biennale (2016), Copenhagen Alternative Art Fair (2016), SONSBEEK '16, Arnhem (2016), Stedelijk Museum, Amsterdam (2013), and the Jakarta Contemporary Ceramic Biennale (2012).
Invited participants
ADANYAH
Andzar Agung Fauzan
Aldizar Ahmad Ghifhary
Ketut Aminudin
Ariswandi
Bening
Ming Chow
Tarsono D. Mardiana
Darto
Fani
Getot
Muhammad Ilham Samudra
Deden Imanudin
Karissya
Eman Kurdiman
Ana Merliana
Karissya
Mayor Staff
Pipin Muhammad Kaspin
Ismal Muntaha
Tatita Na Sae
Inin Nastain
Tamyiz Noor Ramadhan
Alma Noxa
Alfiza Nur Aisyah Irmanda
Elgea Nur Balzarie
Tedi Nurmanto
Gilang Pramuditha
Pandu Rahadian
Kiki Rasmadi
Rifayanti
Deden Sambas
Prabowo Setyadi
Yuliati Shalihat
Bunga Siagian
Karna Sobahi
Subita
Ahmad Sujai
Pepep Syaiful Hidayat
Ginggi Syarief Hasyim
Arie Syariefudin
Illa Syukrila
Loranita Theo
Ahmad Thian Fultan
Arief Yudi Rahman
Ika Yuliana