Waza, which means "imagine" in Swahili, is an art center founded in 2010 by a group of artists and curators based in Lubumbashi, D.R. Congo. Waza develops exhibitions, publications, and other cultural productions to foster grassroots experimental artistic practices and promote alternative ways of sharing knowledge and raising consciousness.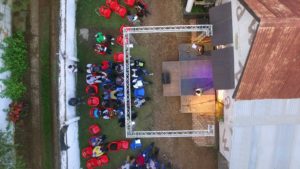 In its physical space, Waza hosts art collectives, social entrepreneurs, and individual artists from a wide range of disciplines, including visual arts, comics, music, writing, and dance. It also runs a library, a sound studio, a web radio, and a zine lab. Its recent projects explore the restitution of African cultural heritage, the commons, art education, emancipation from the paternalistic organization of labor, and alternative uses of cyberspace in the Global South. Waza's program alternates research in an experimental laboratory with mediation targeting local communities.
At documenta fifteen, Waza presents a platform of curatorial experiences inspired by practices of the commons studied in South Eastern Congo. More than twenty cultural workers become Kirata, an accented form of "curator", both in order to claim their right to construct their own discourse on art practices and to distance themselves from the extractivist methods of hegemonic international exchanges. During the 100 exhibition days in Kassel, Waza presents a collaboration with the smelters of Walemba in the Congolese copper belt, discussions with the community of Kalera, caught in between a natural reserve and a hydroelectric dam project, and the archives of the Verbeek-Mwewa collection, which gives an account of the artistic sensitivities of Lubumbashi's working classes during the last five decades. The triple installation embodies a harvesting of the Kirata's process, which then triggers baraza, the public program encouraging cultural empowerment through artistic production.
As a contribution to the Fridericianum library, Waza presents research on archiving contemporary art practices in Africa developed since 2014 in collaboration with Visual Art Network South Africa for PAN!C, the Pan-African Network of Independent Contemporaneity. Waza will also join the programs of lumbung artists Arts Collaboratory and Another Roadmap Africa Cluster, of which it is a member.
Invited participants
Agathon Kakusa
Bodil Furu
Bram Goots
Cecile Mwepu
Chadrack Kakule
Chriss Kabongo
Christelle Ntanga
Christian Nyampeta
Damien Kahambwe
Denise Maheho
Feza Kayungu
Guellord Mbolela
IIunga Kangalele Richard
Jean-Guy Mbopey
Jeanne IIunga
Joseph Kasau
Kabala Mwana Mbuyi Adamo
Kabulo Kazadi Richard
Kazadi Kapenda Richard
Leon Verbeek
Lubange Wa Kangalele
Lumbwe Kafwana Laurent
Lumuna Ndala
Maman Kisimba
Maya Van Leemput
Michel Kasongo
Mwewa Kasongo
Nadine Pena
Naomie Monga Masengo
Nontobeko Ntombel
Olivier Bwihangane
Patrick Mudekereza
Pierre Kahenga
Prodige Makonga
Raphael Salumu
Rene Ngombe
Richard Mbuyu
Rita Mukebo
Samuel Luenberger
Sari Middernacht
Stephane Kabila
Tresor Makonga
Veronique Poverello