The Fondation Festival sur le Niger was founded in 2009 with the aim to sustain and further develop the advances the Festival sur le Niger has made for the arts in Ségou and beyond.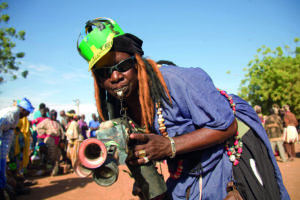 After its inception in 2005, the Festival sur le Niger quickly became the largest cultural event in Mali and, indeed, West Africa. With its rich program, spanning music, dance, theater, visual arts, and more, the festival has boosted cultural life in Ségou and stopped the exodus of artists to Bamako, the nation's capital, and abroad.
By training young artists and cultural entrepreneurs throughout Africa, providing deep mentoring and support, producing artistic work, and developing distribution circuits, the Fondation sur le Niger strengthens the whole spectrum of culture and arts in Mali and Africa at large. Their collaborative way of working, a practice they call Maaya entrepreneurship, brings traditional humanist Maaya philosophy to contemporary society and culture.
For documenta fifteen, the Foundation Festival sur le Niger presents a series of artistic actions in Le Maaya Bulon / Vestibule Maaya. In Mali, the Bulon is a room in the house, similar to a vestibule, where hospitality is practiced – a central value in Malian culture.
Throughout the exhibition, numerous artistic events take place in such a Bulon. Here, music and theater meet painting and photography. Some key figures from the Malian art scene bear witness to the humanist values of sharing and mutual aid of the Maaya, including Abdoulaye Konaté, Losso Marie Ange Dakouo, Yaya Coulibaly, Mama Koné, Lamine Diarra, Lassina Koné, Seydou Camara, Fatoumata Coulibaly, Yacouba Magassouba, N'fana Diakité, Cheick Tidiane Seck, NDji Yacouba Traoré, Samba Touré, Adama Keita, Salomé Dembélé, Salif Berthé, Amaïchata Salamata and Tieble Traoré, among others.
Fondation Festival sur le Niger's website
Invited participants
Abdoulaye Camara
Abdoulaye Konaté
Adama Keïta
Amaichata Salamata
Attaher Maiga
Awa Diarra
Bourama Diarra
Bréhima Coulibaly
Cheick Amadou Tidiane Seck
Cheick Oumar Sissoko
Djoulaye Samuel Coulibaly
Elisée Sangare
Fatoumata Tioye Coulibaly
Gaoussou Diao
Ibrahima Wane
Kalifa Dembélé
LAMINE Diarra
Lassina Koné
Losso Marie Ange Dakouo
Madou Tounkara
Mahamadou Drame
Mama Koné
Mamou Daffé
Mariam Koné
Mohamed Doumbia
Moise  Sagara
Moussa Boubacar Diarra
N'Dji Yacouba Traoré
N'Fana Diakite
Salia Malé
Salif Berthé
Salomé Dembélé
Samba Touré
Seydou Camara
Souleymane Ouologuem
Tieble Traoré
Yacouba Magassouba
Yaya Coulibaly
Zakaria Konaté