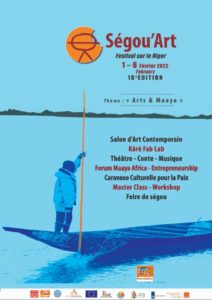 The annual music and art festival Ségou'Art – Festival sur le Niger on the banks of the Niger River in Ségou has quickly become the largest cultural event in Mali and West Africa. The 18th edition is dedicated to the intertwining of art and Maaya—an integral Malian concept of humanity based on the relationship between the individual and the community.
The values of Maaya provide the base of the artistic program of the festival. Thus, the Maaya Bulon, a traditionally multifunctional space referring to the notions of welcome and hospitality, will be one of the main attractions of this year's edition. The Maaya Bulon will also be shown at documenta fifteen in Kassel.
The Festival is organised by the lumbung member Foundation Festival sur le Niger. As part of their participation in documenta fifteen, various artistic works will be created to showcase the richness and cultural diversity of Mali.
More Information on Ségou'Art – Festival sur le Niger's Website