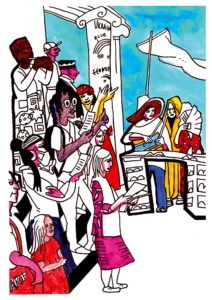 The regional street magazine Asphalt has been a partner of documenta fifteen since October 2021. Since then, a jointly conceived article has been published monthly. The media partnership with Asphalt was born out of a conviction to share the same values and a practice of solidarity—very much in the spirit of lumbung.
In the last Asphalt contribution, ruangrupa and the Artistic Team look back on a productive and instructive cooperation, with many encounters with the Asphalt vendors and the Asphalt team.
The September issue of Asphalt is now available on the streets of Kassel, Göttingen, and Hanover. Digital and mail order copies can be purchased by sending an e-mail to vertrieb@asphalt-magazin.de.