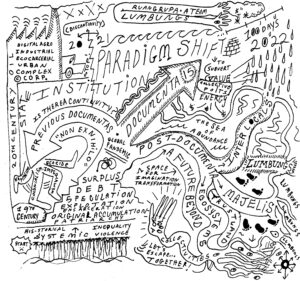 Venues
Gloria-Kino
Friedrich-Ebert-Straße 3, 34117 Kassel
Friday and Saturday 7.30 pm, Sunday 5.30 pm
Nordstadt Stadion
Struthbachweg 3, 34127 Kassel
Sunday 2–10 pm
Program
The harvest festival kicks off during Meydan #3 (Friday, September 9–Sunday, September 11), taking place in Kassel as well as continuing beyond the exhibition dates  in the various localities of lumbung members and lumbung artists. This series will share and discuss artistic harvests of learnings from documenta fifteen and the local ekosistems of lumbung members and lumbung artists.
The Gloria-Kino shows the film and performance program After Cinema conceived by Azin Feizabadi for Meydan #3. lumbung member OFF-Biennale Budapest presents the RomaMoMA Street Festival on Sunday, September 11 from 2 pm to 10 pm in collaboration with FC Bosporus and the Kinder- und Jugendförderung der Stadt Kassel. There will also be the opportunity to purchase products from the lumbung member and lumbung artists ekosistems at the lumbung Kios pop-up market.
Meydan took place every second weekend of the month during documenta fifteen: July 8–10, August 12–14, and now September 9–11, 2022, with free admission. Meydan as a word is used in Urdu, Fārsi, Ukrainian, Turkish, and Arabic to refer to a public area used for coming together, a square or a public park. It's an accessible space for having assemblies to discuss, to dissent, or to celebrate.
The program is developed in collaboration with the Kassel ekosistem and facilitates various forms of social gathering. Meydan #3 is conceived in collaboration with Sandershaus and together with ZukunftsDorf 22.
Harvest festival and music at Sandershaus/Haferkakaofabrik
Harvesting artists Victoria Lomasko, Abdul Dube, Putra Hidayatullah, Sebastián Díaz Morales with Simon Danang Anggoro, Arts Collaboratory, and Cem A., as well as lumbung working groups exhibit their harvests, that have been created so far in preparation for and during documenta fifteen, tell stories, and organize workshops to reflect on the learnings with the public.
Harvest means the documentation of meetings and processes, which is prepared by harvesters as overviews, texts, sketches, or drawings. The harvesters listen and reflect. In exaggerated, humorous or poetic form, they document the process from their individual perspective and by means of their own artistic practices.
Radio Alhara invites other radio collectives such as Cashmere Radio, Radio Raheem, and Radio Nopal for an evening program of conversations, live performances, and DJ sets.
After Cinema at Gloria-Kino
The 93-minute film program, conceived by Azin Feizabadi, includes six fictional, documentary, poetic, essayistic, and experimental short films from the lumbung Film archive. The focus is on the extent to which going to the cinema is a collective experience and what happens after leaving the cinema.
Following the screening (the program will be repeated Friday through Sunday), varying performances by Setareh Shahbazi and Neda Saeedi (visual artists), Cat Woywod (sound and improvisation artist), Tanasgol Sabbagh (poet and spoken word performer), and Haytham El Wardany (writer) will be presented in response to this question.
RomaMoMA Street Festival at Nordstadt Stadion
lumbung member OFF-Biennale Budapest presents the RomaMoMA Street Festival. A workshop with Daniel Baker on the secret sign language of nomadic Roma people will be followed by a film screening and music by DJ Lazlorrobot.
RomaMoMA is a long-term collaborative project of lumbung member OFF-Biennale Budapest with the European Roma Institute for Arts and Culture (ERIAC). It showcases artworks in relation to the idea, question, and (im)possibilities of a "RomaMoMA" (Roma Museum of Contemporary Art). The exhibition presents the untold past and the unfolding present of Roma artists through their artworks and storytelling. Older and younger generations of artists and their differing artistic positions will be highlighted through an installation that both constructs and deconstructs the idea of a "RomaMoMA" as an imaginary, transnational space for the presentation of artworks.
lumbung Kios pop-up market
lumbung Kios is a network of decentralized and self-run Kios (Indonesian for kiosk), in order to sell products at different locations. Its mission is to create a sustaining model to raise an income through the sales of goods produced by the lumbung members, lumbung artists, and their local ekosistems. lumbung Kios is an attempt to decentralize distribution mechanisms and to explore alternative economies. The aim is to keep the environmental impact as low as possible.
As part of Meydan #3, the range of regular documenta fifteen lumbung Kios will be expanded to include a pop-up market at the three venues Hübner areal (in collaboration with ZweiPunktNull, Lost and Found, Galerie auf Zeit Network, My Village, and more), Sandershaus (in collaboration with Sandershaus), and ruruHaus (in collaboration with Walther König). The pop-up market takes place at Hübner areal from Friday to Sunday from 10 am to 8 pm, at Sandershaus from Friday to Sunday from 5 to 9 pm, and at ruruHaus on Saturday and Sunday from 10 am to 8 pm.