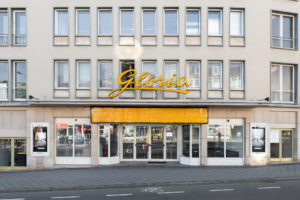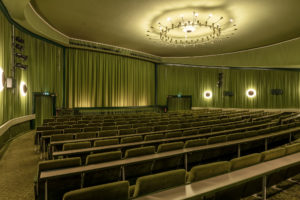 The Gloria-Kino is one of the few arthouse cinemas for independent film in Kassel. The picture theater, which opened in 1954, has preserved the character of its 1950s architecture, even though parts of its current interior date from the 1980s.
Collectives such as Subversive Film and Komîna Fîlm a Rojava are presenting film festivals at the Gloria-Kino. lumbung Film, a series of films and videos by lumbung members and lumbung artists, is also playing throughout the 100 days of the exhibition.
Information about the film program, film length, and languages or subtitles can be found in the lumbung program calendar.
Opening Hours
Please note: Gloria-Kino shows films by lumbung members and lumbung artists. The films do not run in a loop, but have fixed start and end times. Film screenings usually take place Tuesday to Sunday between 2 pm and 11 pm. As these times can vary daily, please check the program calendar before your visit.
The entrance is free, a ticket is not required.
Directions
Friedrich-Ebert-Straße 3, 34117 Kassel
ˇ
Accessibility
Access:
Access to the cinema via the main entrance is at ground level. There are wheelchair spaces in the cinema hall in front of the first row.
Bathrooms:
A barrier-free bathroom is available.
Parking:
You can find a detailed map of the city of Kassel here (in German language). Selection in the topic layer "Themen-Layer": Verkehr & Mobilität + Behindertenparkplätze
lumbung members & artists
Lumbung Program on site