Cao Minghao and Chen Jianjun currently work and live in Chengdu. Their art practices are research-based and process-led, highlighting the transactional collaboration between the artists and their partners in ecological and socio-cultural spheres. Dedicated to the dialogical relationship between the realities and the survival of myriad things, their practices grow from a space of entanglement in-between the material ecology of water and the current socio-environmental realities of mankind.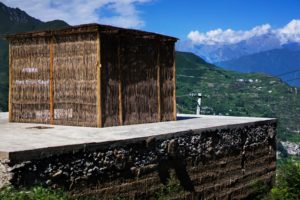 Their work concerns researching villages that have disappeared and allying workers, advancing new methods of communal practices, foregrounding traditional techniques in specific geographies, and constructing Water System Refuge (2019–2021) – an installation for the public space. Practicing multiple means of visual narratologies through sustainable art-making, they build up a momentum for alliance among all beings.
In 2010, Cao Minghao and Chen Jianjun jointly initiated with others the rural research and intervention art project Kunshan – Under Construction, which centered on the historical and current realities of rural societies in China. Following that, they worked with multiple environmental organizations and local groups to develop pedagogical as well as community building programs. These include, for example, collaborating on the project Gaze from the Top Floor (2014) with the Society of Migrant Workers in urban villages in Guangzhou. In 2015, they initiated the long-term art project Water System Project in Sichuan Province. The project is based on research, dialogues, and diverse collaborations reflecting on the historical changes and contemporary realities of the local water system.
Their contribution to documenta fifteen brings together many people—herders and pastoralists, Kassel's diverse communities, scientists, geologists, anthropologists, lumbung members, lumbung artists, and visitors. The site for interactions is a black tent—woven in yak hair and mixed fabric—installed in the park outside the Orangerie. The tent takes the form of nomadic housing used by herder groups in a region stretching from the shores of the Atlantic Ocean to the eastern Tibetan Plateau. These groups use the tent not only for refuge, but as sites for governance and ritual.
Within this tent, viewers can see other components to the project: research from workshops, presentations, a new publication titled The Ecology of Sands and "Black Beach", and the video Grass, Sand and Global Environmental Apparatus. While the tent will be partly biodegradable by the end of the exhibition, its yak hair does not"live and die" at documenta fifteen. Minghao and Jianjun have worked with the Grassland Ecological Planting Farmers' Cooperative to facilitate production of yak hair slippers.
Previously, their projects have been shown in the 13th Shanghai Biennale (2020–21); Cosmopolis #2: Repenser l'humain, Centre Pompidou, Paris (2019); and at the screening session of the 11th Taipei Biennale (2018), among others. In 2020, they took part in the residency program at Cité internationale des arts, Paris.
Invited participants
Chi Xinan
FAN Xiao
Jianjun Chen
Kathryn Weir
Konchok Palsang
Laura Ning
Liu Man-kun
Minghao Cao
Hai REN
Tao Gu
Wan Li
Yang Linqing
Yin Chun
Mi You
Yu Jiahua
Yu Biao
Zhang Xuehua
Zhou Yufei
Zhou Lai
Zhu Dan