Kiri Dalena is a visual artist and filmmaker known for her works that lay bare the social inequalities and injustices that continue to exist, particularly in the Philippines. Her active involvement in the mass struggle to uphold human rights amidst state persecution is the foundation for her art practice, which underscores the relevance of protest and civil disobedience in contemporary society.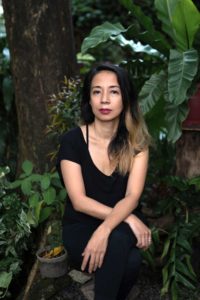 For documenta fifteen, a well-traveled protest banner unfurls across the facade of Kassel's Fridericianum. "STOP THE KILLINGS" is an address by RESBAK (Respond and Break the Silence Against the Killings)—an artists' collective Dalena co-founded—to organize against former president Rodrigo Duterte's War on Drugs in the Philippines. Up to 30,000 people have been assassinated by police or died in other extrajudicial action since 2016. The words on the banner, which made its way through protests, are pixelated by mourning pins, traditional black acrylic markers worn by the bereaved.
The interminable waiting for the future is shown in Pila (Lines) (2022), a newly commissioned five-channel video and sound installation made during the pandemic. As the 18-month lockdown continued in the Philippines, food scarcity spread. Community pantries sprung up around the country with the imperative: "Magbigay ayon sa kakayanan, kumuha batay sa pangangailangan" (Give what you're able to give, and take only what you need). Dalena worked with community members to collect food donations for the table they set up close to her house. The sky turns from night to day as people sit, sleep, talk, and wait for as little as 500 grams of rice. Dalena recorded (with their permission) conversations of those in line, asking them to speak freely of what they normally talk about while waiting—or to continue resting quietly, if they preferred.
Dalena works both as an individual and in collectives, such as Southern Tagalog Exposure (active 2001–2008) and RESBAK (2016–present). Her works have been shown in various international exhibitions, such as the Berlin Biennale (2020), Manila Biennale (2018), Shanghai Biennale (2018), Jakarta Biennale (2017), Asia Pacific Triennial of Contemporary Art (2015), Fukuoka Asian Art Trienniale (2014), and Singapore Biennale (2013).