Marwa Arsanios is an artist, filmmaker, and researcher who reconsiders mid-twentieth-century politics from a contemporary perspective, with a particular focus on gender relations, spatial practices, and land struggles.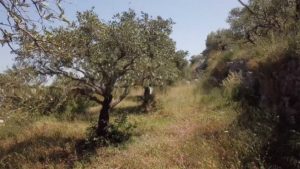 She looks at histories of resistances in their contemporary resonance. Arsanios approaches research collaboratively and seeks to work across disciplines. She is the co-founder of the Research Project 98weeks.
For documenta fifteen, Arsanios shows the latest of her ongoing film series Who is Afraid of Ideology (since 2017). The series weaves an intersectional path through the resistance of women on the frontline in places such as Northern Syria and Colombia to claim the unmediated right to land and water.
The film, Arsanios is showing in Kassel, is set in a quarry in the mountains of northern Lebanon. It is only the beginning of a much longer effort that aims to set the groundwork for a different future. Arsanios's main goals in this endeavor are to communalize a section of private quarry in the mountains with the help of an agricultural cooperative, to work on the solutions for bettering the soil quality, and to make the local community part of the process.
In the past Arsanios has shown in solo and group exhibitions at the Contemporary Arts Center, Cincinnati (2021); Berlin Biennale (2020); Warsaw Biennial (2019); Sharjah Biennial (2019); Gwangju Biennial (2018); Luleå Biennial (2018); Škuc Gallery, Ljubljana (2018); Beirut Art Center (2017); From Ear to Ear to Eye, Nottingham Contemporary (2017); Home Return, MAXXI, Rome (2017); HERE AND NOW, Museum Ludwig, Cologne (2016); Hammer Museum, Los Angeles (2016); Witte de With Center for Contemporary Art, Rotterdam (2016); Kunsthalle Lissabon, Lisbon (2015); Art in General, New York (2015); Thessaloniki Biennial (2015); Home Works Forum, Ashkal Alwan, Beirut (2010, 2013, 2015); Here and Elsewhere, New Museum, New York (2014); 55th Venice Biennale (2013); Meeting Points 7 – Ten Thousand Wiles and a Hundred Thousand Tricks, M HKA, Antwerp (2013); and 12th Istanbul Biennial (2011), among others. Screenings of her videos have taken place at the CPH:DOX – Copenhagen International Documentary Film Festival (2018), Centre Georges Pompidou, Paris (2011, 2017); Berlinale (2010, 2015). Arsanios was a researcher in the Fine Art Department at the Jan Van Eyck Academie, Maastricht (2010–12). She is currently a PhD candidate at the Akademie der bildenden Künste in Vienna.
Invited participants
Amani Dagher
Maya Dghaidi
Dr. Joanna Doummar
Katrin Ebersohn
Mazen Hachem
Families of Mamlouk and Mohamad
Nancy Nasseredine
Wissam Saade
Wael Yammine