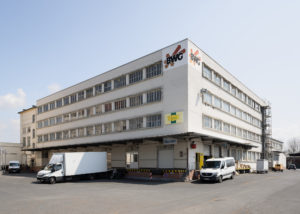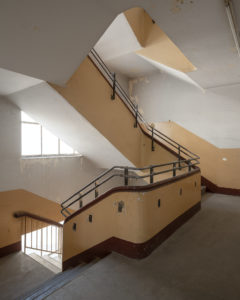 Kassel did indeed once have a port that was used for goods traffic. During World War II and thereafter, it flourished again. Since 1977, the harbor has been home to the local yacht club, leaving many of the old industrial buildings unoccupied, such as the multistory complex built in 1907 at Hafenstrasse 76, which today stands empty.
During the 100 days of the exhibition, Hafenstrasse 76 will be occupied once more: The Berlin collective Fehras Publishing Practices is working on its fictional photo novel Borrowed Faces, about three women who visit archives during the Cold War era. An installation presents this fictional archive as if it actually exists today. An installation and a film shot in Lebanon about common property, land rights, and land use are shown by the artist Marwa Arsanios of Beirut, Lebanon. The opportunities for converting real estate into common property and issues of land ownership and property are essential parts of her artistic work. Also at Hafenstrasse 76, the graphic artist Nino Bulling presents selected drawings from a publication that takes a gender-fluid perspective on issues such as climate change, hand-painted on silk, and *foundationClass*collective activates the ground floor as a community space.
Teachers and students come together in the CAMP notes on education network. They work on new ways of mediating in the fields of art, art history, and cultural education. The CAMP workspace in the courtyard forms the basis for the Arts Educators in Residence, where fellows develop new ideas and working methods. The collective Composting Knowledge develops its projects together with local initiatives.
Directions
Hafenstraße 76, 34125 Kassel
ˇ
Accessibility
Access:
Three ramps (5-6% incline) make the exhibition rooms and passageways accessible at ground level. A freight elevator (213.5 x 246 cm; 2,000kg/21 pers.) provides access to all levels. It is operated by a trained superintendent.
Bathrooms:
Regular accessible bathrooms are located in containers in front of the building.
Parking:
You can find a detailed map of the city of Kassel here (in German language). Selection in the topic layer "Themen-Layer": Verkehr & Mobilität + Behindertenparkplätze
lumbung members & artists
Lumbung Program on site
Walks and Stories on site