*foundationClass formed in 2016 at Weißensee Kunsthochschule Berlin (KHB) as an art educational platform and resistance toolkit designed to facilitate access to art academies for people who have immigrated to Germany and are affected by racism. *foundationClass embraces ongoing movements for transformation and resilience by evolving toward an environment that calls for sustainable patterns of assembly and solidarity.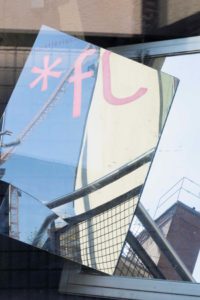 The collective is a group of artists with different experiences who met through the educational platform *foundationClass at KHB and formed the *foundationClass*collective. The group is committed to working against the isolation faced in the art world because of its exclusion mechanisms. *foundationClass*collective is in a transformative space, constantly searching and learning about what a collective could be.
The collective's initiatives for documenta fifteen respond to Kassel's particular migrant landscape and community ecology. Their work uncovers methods of developing self-driven economies from migrant standpoints and reiterating their visions of art in education. Their footing in the city of Kassel is down-to-earth and examines how the city lives before and after the 100 days of documenta, bridging older conflicts with newer ways of learning and sharing.
Together with MiniCar, the migrant-driven cab network in Kassel, they devised a mobile audio sculpture that circulates throughout the city in MiniCar cabs.
A second project in Hafenstraße 76 is a spatial laboratory to imagine a possible project space in the future (in Berlin). It includes workshops, mutual learning, and setting up a space for artistic interventions and experiments.
The third venue is the Fridskul at the Fridericianum, where the *foundationClass*collective contributes with an installation of banners. These banners, like book pages, vocalize *fC practices on art education, sharing strategies with audiences about how to survive in an art school, with its inherent mechanisms of inclusion and exclusion.
Invited participants
Vera Varlamova
Noureddin Yassin
Mc3BArts
Mohanad Alsneeh
Osamah Abouzor
Mayada Al Kayal
Mahmoud Ismail
Richard Khaldon
Batoul Sedawi
Sultan Yousif
Boaz Murinzi
Khaled Mzher
Rena Onat
Aref Torkaman (RIP)
Marina Naprushkina
Max Grau
Bora Yediel
Minicar
Stefan Daraban
Ogün Kebapçı
Yalçın Alay
Özdemir Adid
Selim Çakır
Hüseyin Çakır
Hasan Çakır
Doğru Şükrü
and many more who want to stay anonymous