Jimmie Durham (1940–2021) was an artist, poet, and writer who lived in Europe. From the early 1960s he was politically active in the American civil rights movement and began to work as a sculptor in 1964. In the 1970s, he was a co-founder and chairman of the International Indian Treaty Council at the United Nations, where his and others' work led to the Declaration on the Rights of Indigenous Peoples.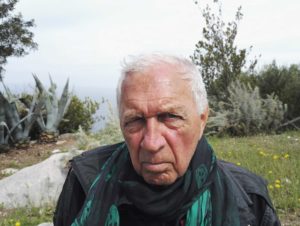 Durham became internationally known in the 1980s with objects and sculptures made from materials such as stones, animal skulls and bones, and carved wood, ironically related to Euro-centric notions of "Indian art." In 1987, Durham left the United States, first to go to Mexico and then, in 1994, to Europe. From this point on, he also increasingly observed European political developments. The relationship between history and environment, architecture and monumentality, and a critical attitude towards political structures of power and narratives of national identity are often at the center of his artistic and literary work. In sculptures, film and video works, drawings and texts, Durham described behaviors and norms of coexistence and the relationship with nature in different cultures and societies.
Jimmie Durham has exhibited worldwide, including at the 58th Venice Biennale (2019); MAXXI, Rome (2016); Serpentine Gallery, London (2015); Neuer Berliner Kunstverein (2015); dOCUMENTA (13), Kassel (2012); and documenta IX, Kassel (1992), among many others. In 2017–18, a retrospective of his work was exhibited at the Hammer Museum, Los Angeles; Walker Art Center, Minneapolis; Whitney Museum of American Art, New York; and the Remai Modern, Saskatoon. Durham was awarded The Golden Lion for Lifetime Achievement of the 58th Venice Biennial (2019), the Robert Rauschenberg Award in 2017, and the Goslarer Kaiserring Prize in 2016. The artist passed away during the preparation period of documenta fifteen on November 17, 2021.
Jimmie Durham & A Stick in the Forest by the Side of the Road is a collective that came about from the idea of Jimmie Durham to gather together a group of artists to form "a community on the road" and to contribute in collaboration with him to documenta fifteen.
Durham did not expect the members of the collective – Bev Koski, Elisa Strinna, Hamza Badran, Iain Chambers, Joen Vedel, Jone Kvie, Maria Thereza Alves, and Wilma Lukatsch – to elaborate a single work or theme. Instead, they would share knowledge, empathy, and humor. On his last night, Durham said, "What a world we live in, a stick in the forest." After his death, the collective decided to make his absence part of the working process.
On his worktable, Durham had a turtle skull in whose honor he had begun a sculpture. This, as well as artifacts he collected relating to physical theories about the expansion of the universe, are on display in documenta fifteen, together with works by the eight individuals of the collective who use different ideas of knowledge to relate to different life forms. These works also include events for the lumbung program such as screenings, workshops, lectures, and publications.
The beaded artworks of Bev Koski negotiate ideas around memory, protection, resilience, and of being present in the world as an Ojibway Anishinaabekwe originally from Northern Ontario.
Elisa Strinna presents two works that are part of her ongoing research project People will miss the Earth, exploring the consequences of extreme warming temperatures and the relationship between Valeriana Officinalis' roots with the human nervous system to treat isolation pathologies.
Hamza Badran's work focuses on neocolonial practices, apartheid, and racism within and outside Europe. He recently visited the city of Cape Town in South Africa to learn about the neo-postcolonial, post-apartheid reality in the city, and people's resistance to the longstanding white colonial violence.
Iain Chambers' research, inspired by Jimmie Durham's art and life, focuses on the interplay between aesthetics and ethics in the colonial constitution of the present.
Joen Vedel's contribution consists of a sound-piece, documenting the process of him trying to learn the language of Tatar, the mother-tongue of his partner and the language spoken by her family in Tatarstan. And a series of live-edited TV programs in collaboration with Kassel ekosistem.
Jone Kvie is presenting two new sculptures. One inside Kassel Hauptbahnhof consisting of a large volcanic rock from the Druseltal quarry in Kassel. The other work is a planetary nebula in handblown glass. His works reflect both phenomena and forms in nature and the random
aesthetics of everyday life.
Maria Thereza Alves' project researches the history of plants and colonization. In her artistic work she investigates strategies of survivance by giving space and voice to silenced histories.
Wilma Lukatsch's contribution How to Eat Avec Plaisir is a dialogue-based publication project. It looks at food and recollections as social recipes in Kassel and beyond. Through the richness of ingredients and the stories embedded, readers are invited to think about other ways to enjoy eating and provide a complex taste to entangled histories. The project wishes to follow Jimmie Durham's generosity to create art and to share tastes as inherently connected.
Invited participants
Giulia Grechi
Alessandra Marino Al-Mishlab
Micol Bez
Prof. Dr. Susanne Westhoff
Nicole Trigg
Matteo Calore
Marco De stefanis
Linus Bonduelle
Antonio Sequeira Lopes
Karin Mecozzi
Jonathan den Breejen
Rob Ruimers
Victor Santamarina
Najumoeniesa Damon
Rosca Van Rooyen
Iris Stricker Amleh
Larry English
Yana Mikhalina
Flöra Zhabbarova
Farida Miñnullina
Gölnara Mikhalina
Eva La Cour
Jörg Ruckel
Christina Ecknigk
Robin Pach
Felix Knauf
Participants from Streetbolzer and Offener Kanal Kassel
Jocelyne Reich-Soufflet
Katharina Koch
Stefan Itter
Susanne Wegerich
Ayami Awazuhara