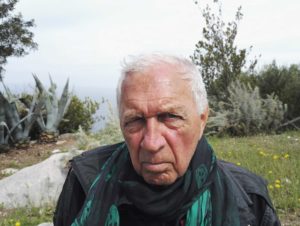 In October 2011, a little over ten years ago, Jimmie Durham planted an Arkansas Black Apple tree in the former orchard of Kassel's Staatspark Karlsaue in the run-up to documenta 13. This apple tree is now deeply rooted and bears fruit when in season, reminding us again and again that after darkness and cold, new life awakens. At the entrance to the greenhouse in the Karlsaue park, where Durham's other works for documenta 13 were exhibited, he placed his sandstone work This Stone is from the Mountain / This Stone is from the Red Palace, originally made for documenta 9 in 1992. For Jimmie Durham, looking back and connecting with the present while pointing to a fruitful future was always essential.
In 2012, as part of his research for documenta 13, the artist wrote the following poem after a visit to Kassel's Nordstadt:
Sallahadin
Kemal Altun was my friend.
What arrogance! Kemal jumped
Out of the window to die
Because he had no friends.
But I love Saladin,
Sallahadin, of Palestine and
Kurdistan.
Also, I've been in that place
Of no friends, next to the
Window.
What Arrogance! That's not the
Time or place of Kemal's life.
We have lost an artist who was both relentless and tender in his art, his texts, and his poems. Jimmie Durham addressed all matters of the world, whether they were near or far from him. The intention inherent in his life and work—to close emotional-political distances and the gap between nature and culture—we can no longer pursue together. But we will always have his works to contemplate and to live with, everywhere, in and outside of Kassel. We will miss him very much.
In deep sadness
The documenta fifteen team