Más Arte Más Acción (MAMA) is a nonprofit cultural foundation that generates critical thinking through art.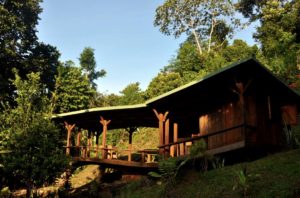 The foundation's base on Colombia's Pacific Coast is a source of inspiration for artists, scientists, activists, and writers, who are invited to explore wide-ranging social and environmental issues and consider the construction of other possible worlds. MAMA builds networks with funders, universities, festivals, art institutions, and local communities to sustain the ideas and processes of critical thinking in the framework of territorial struggles.
Más Arte Más Accion has offered an artistic residency program based on their notion of a Space to Reflect. First created as a physical space designed by Atelier van Lieshout on the coast of Chocó, Colombia, the concept will now travel to Kassel, opening spaces to consider a wide range of subjects that have enriched artistic practices.
In Kassel the foundation seeks to bring together artistic practices, political conceptions, and ethnic and gender diversities, in order to produce an "entanglement of cultural and artistic processes," as they call it. It has come, then, to build a network and an ekosistem here as well: Artists, collectives, academics come together to talk about climate justice, racial violence, extractivism and the problems of progress— and to create their own forest. In different parts of the city, the group has installed wooden stools cut from the trunks of beetle-infested trees, small spaces for thinking, evoking the main function of Chocó Base. The work is a forest of soundscapes and wood that underscores the need for a common conversation about climate justice and biodiversity.
Invited participants
Ailie Rutherford
Alejandra Rojas
Alejandro Castillejo
Alison Turnbull
Ana Garzón
Andrés Torres
Andrés Veléz
Apichatpong Weerasethakul
Ariane Andereggen
Arianne Kamsteeg
Carmenza Rojas Potes
Carolina Rincón
Claudia Howald
David Paredes
David Suárez
Diego Aretz
Elizabeth Gallón
Elkin Calderón
Enrique González
Ericka Flórez
Erna Von Der Walde
Fausto Moreno
Fernando Arias
Gregorio Gómez
Hortencio Palacios
Jhon Esteban Lasso
Joep Van Lieshout
Jonathan Colin
José Fernando Serrano
Karina Angulo
Kathrin Wildner
Knowbotiq
Yvonne Wilheim
Christian Huebler
Kurt Hollander
Leonel Vásquez
Leyner Palacios
Liliana Gómez
Lina Bryyi Moreno
Lorena Diez
Magdalena Wallpot
Manuel David Riascos
María Andrade
Miguel Navas
Natalia Arias
Osneyder Valoy
Paola Pérez
Paula Andrea Orozco
Pilar Mendoza
Rossana Alarcón
Sandra Vega
Sina Ribak
Stefan Peters
Tahuanty Jacanamijoy
Ted Gaier
Teresa Feldmann
Velia Vidal
Walker & Bromwich
Yaisa Mariam Quintana
Yei Moreno