Event
urun rembuk – thinking and acting on sustainability
by Saodat Ismailova, Pınar Öğrenci, Nguyen Trinh Thi, Más Arte Más Acción, INLAND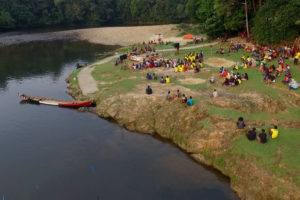 With the panel discussion urun rembuk – thinking and acting on sustainability, where urun rembuk can be translated from Indonesian as "achieving something together", documenta fifteen links its sustainability efforts to artistic approaches. The conversation will highlight an overarching, shared interest in preserving a healthy environment, promoting social equality, and strengthening social and economic ecosystems.
More than previous documenta exhibitions, documenta fifteen places a particular emphasis on sustainability. The focus is cultivated by the artistic practice of lumbung, which ruangrupa has based the upcoming edition of documenta on. Drawing on a holistic understanding of sustainability, lumbung brings together its social and ecological dimensions as the foundation for all organizational and artistic actions within the framework of documenta fifteen.
During urun rembuk, the "Sustainability Euro" included in the documenta fifteen ticket will be introduced, as well as the international and local partners and projects involved. These include the University of Göttingen, with which documenta fifteen has initiated the creation of a long-term sustainability project to diversify palm oil monocultures with native tree species in the Jambi region of Sumatra in Indonesia, and Forum Wissen, which is affiliated with the University and where the results of this project will be presented to the public in 2022. This academic work will experience a stronger local anchor through collaboration with the artist collective Rumah Budaya Sikukeluang from the province of Riau in Sumatra and will be enriched by festivals in which artists and the locals of Sumatra will be involved. The Kassel-based project partner HessenForst, together with documenta fifteen, will carry out several tree-planting actions that will invite public participation. The first planting of an oak avenue in the Reinhardswald forest near Kassel will take place on November 26, 2021.
The panel discussion will be complemented by a selection of artistic interventions by lumbung artists Saodat Ismailova, Nguyen Trinh Thi and Pınar Öğrenci. Saodat Ismailova will show excerpts from her filmic documentary ARAL. Fishing in an Invisible Sea, realized together with Carlos Casas in 2004, which introduces three remaining generations of fishers on the Aral Sea and their daily struggle for survival in one of the most barren places on Earth. Nguyen Trinh Thi will present her 2013 work Landscape Series #1, in which she conceives landscapes as silent witnesses to Vietnamese history and places of past events that hold something vanished, lost, or missing. Pınar Öğrenci will introduce her work Resisting Forest (2019/20), where she interviewed farming women on Turkey's Black Sea coast, who revolted against a coal-fired power plant project in Gerze and a hydroelectric plant in Aslandere using wooden sticks.
Contributions by lumbung members Más Arte Más Acción and INLAND will focus on the forest. While Más Arte Más Acción's film work Possible Dialogues Cap. 2 (2021) deals with the rainforest and its inhabitants in the Amazon region of Colombia, INLAND discusses ecological issues and sustainability related projects with their presentation Think a Forest – On New Commons and the Politics of Re-wilding.
A closing discussion will lay the groundwork for a continuing conversation on a variety of relevant sustainability issues, including the potential for social, environmental, and economic impact, as well as the sustainability challenges that lie ahead.
The event takes place at ruruHaus in Kassel. Some participants will join digitally. The recording of the event will be available online on documenta fifteen's website soon after.
Program
9.30 am          Doors open
10 am              Welcome and introduction to the day by Andrea Linnenkohl, Artistic Team and General Coordinator documenta fifteen
10.15 am          Welcome by Dr. Sabine Schormann, Director General documenta und Museum Fridericianum gGmbH
10.30 am         ruangrupa, Artistic Direction documenta fifteen: documenta fifteen and Sustainable Ecologies
10.45 am         Saodat Ismailova: ARAL. Fishing in an Invisible Sea, 2004, Nguyen Trinh Thi: Landscape Series #1, 2013
11.15 am           Coffee break
12 pm               Collaborative Research Centre 990, Göttingen University: Ecological and Socioeconomic Functions of Tropical Lowland Rainforest Transformation Systems, Prof. Dr. Alexander Knohl, Prof. Dr. Holger Kreft, Dr. Aiyen Tjoa and Prof. Dr. Meike Wollni
12.40 pm         Forum Wissen: A Museum on Knowledge, Dr. Marie Luisa Allemeyer and Dr. Michael Fürst
1 pm                  Lunch break
2.30 pm          Rumah Budaya Sikukeluang: semah bumi – Arts and Science Festival as a Medium for Sustainable Environments, Heri Budiman and Adhari Donora in conversation with Dr. Fabian Brambach
3.10 pm           Pınar Öğrenci: Resisting Forest, 2019/20, Más Arte Más Acción: Possible Dialogues Cap. 2, 2021
3.50 pm           HessenForst: The Art of Work – How We Help the Forest to Save the Climate, Michael Gerst, Lutz Hofheinz and Michelle Sundermann
4.30 pm           Coffee break
4.50 pm           INLAND: Think a Forest – On New Commons and the Politics of Re-wilding
5.20 pm           Panel discussion moderated by Andrea Linnenkohl
6.20 pm           Q&A and closing remarks
7 pm                 Joint nongkrong
Participants
Dr. Marie Luisa Allemeyer is Director of the "Zentrale Kustodie" of Göttingen University and project leader of "Forum Wissen", which will open in Göttingen in May 2022.
Dr. Fabian Brambach is a postdoctoral researcher at Göttingen University and he works on the diversity and ecology of plants in tropical regions.
Heri Budiman is an art activist, working in photography and documentary filmmaking on art, culture and environment. He is co-founder of Rumah Budaya Sikukeluang.
Adhari Donora is co-founder of various initiatives including lifepatch.org – a citizen initiative that works on interdisciplinary practices in art, science and technology, as well as serempak.org, a cross-disciplinary practice and platform for art in Pekanbaru, Indonesia. Adhari Donora is also co-founder of Rumah Budaya Sikukeluang.
Dr. Michael Fürst is Exhibition Manager at the Centre for Collection Development at the Göttingen University since 2018. Previously to his current role, Fürst curated and managed exhibitions and events at the Schwules Museum Berlin, and worked as Program Developer at the German Federal Cultural Foundation.
Michael Gerst holds a degree in forestry. Since 2001 he has been the director of HessenForst, a government-owned corporation based in Kassel which manages 850,000 acres of state-owned forest, as well as the majority of corporate and private forests in Hesse.
Lutz Hofheinz is Head of Forest Management Unit Hanau-Wolfgang. Among his professional engagements there were long and short-term advisory missions in different countries including a three-year assignment in Indonesia.
INLAND is a collective dedicated to agricultural, social and cultural production, and a collaborative agency. INLAND was initiated in 2009 and is a lumbung member of documenta fifteen.
Saodat Ismailova is a filmmaker and artist living between Paris and Tashkent. Her region of birth remains as the main source of inspiration for her work, focused on female spiritual practices and ancestral knowledge. She is a lumbung artist of documenta fifteen.
Prof. Dr. Alexander Knohl is professor of bioclimatology at Göttingen University and focuses his research on land-atmosphere exchange processes.
Prof. Dr. Holger Kreft is professor of biodiversity and macroecology at Göttingen University and he is interested in how species and ecosystems are influenced by natural and anthropogenic forces.
Más Arte Más Acción based in Chocó, Colombia, is a non-profit cultural foundation that generates critical thinking through art. Más Arte Más Acción is a lumbung member of documenta fifteen.
Pınar Öğrenci is an artist and filmmaker based in Berlin. Her poetic and experimental video-based works and installations make visible the traces of material culture in different regions affected by displacement and disappearance of the inhabitants. She is a lumbung artist of documenta fifteen.
ruangrupa is Artistic Direction of documenta fifteen.
Michelle Sundermann is Press Officer at HessenForst. Previously she has worked as scientist in Natural Forest Research Projects and has supported HessenForst's engagement in international development aid.
Nguyen Trinh Thi is a Hanoi-based filmmaker and artist. She is a lumbung artist of documenta fifteen.
Dr. Aiyen Tjoa is lecturer at Agriculture Faculty of Tadulako University, Indonesia, with research focus on soil-plant interaction. She is a member of the joint management board of the Collaborative Research Center 990.
Prof. Dr. Meike Wollni is professor of environmental and resource economics at the Göttingen University. In her research she focuses on incentives for more sustainable land use choices.
Languages
English and German, with German Sign Language Interpretation
Covid-19 Notice
Access to ruruHaus is possible only with proof of recovery, vaccination or current negative test, which is not older than 24 hours (3G rule).
The event takes place under consideration of currently valid hygiene guidelines. There is an obligation to cover the mouth and nose in the entire indoor area.