Saodat Ismailova is a filmmaker and artist who came of age in the post-Soviet era and has established artistic lives between Paris and Tashkent while remaining deeply engaged with her native region as a source of creative inspiration.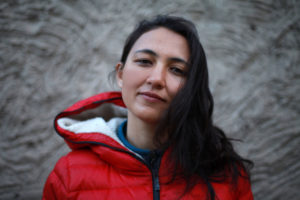 Following graduation from State Art Institute of Tashkent, she was granted a residency in Fabrica, Benetton Group's research and communication center in Treviso, Italy, where she directed Aral: Fishing in an Invisible Sea, which won Best Documentary at the 2004 Turin Film Festival. In 2005 Ismailova was awarded a place on the DAAD Artists-in-Residence program in Berlin, where she developed her debut award-winning feature film 40 Days of Silence, which premiered at Forum, Berlin International Film Festival in 2014. She participated in the Venice Biennale in 2013 as part of the Central Asian Pavilion with her video installation Zukhra. In 2017 she was artist-in-residence in OCA (Office of Contemporary Art, Norway) where she developed her short film The Haunted, presented the same year at Tromsø Kunstforening.
In 2018 Ismailova graduated from Le Fresnoy, France's National Studio of Contemporary Arts, where she developed Stains of Oxus and Two Horizons. In the same year, her multimedia performance Qyrq Qyz was presented at BAM (Brooklyn Academy of Music) in New York, and Musée du quai Branly in Paris.
In 2021 Ismailova established a research group Davra in Tashkent dedicated to studying, documenting, and disseminating Central Asian culture and knowledge. In the same year, she presented the solo exhibition What was my name? at Aspan Gallery, Almaty, and created the educational program CCA Lab at Center for Contemporary Arts, Tashkent, where the year prior she presented the solo exhibition Q'org'on Chirog. Beginning in April 2022, her work will be on display at the exhibition of La Biennale di Venezia The Milk of Dreams, curated by Cecilia Alemani.
Works by Ismailova are in the collections of the Stedelijk Museum, Amsterdam and Centre Pompidou, Paris.
Ismailova's contribution to documenta fifteen revolves about the figure of the chilltan. In Central Asian cultures, chilltan are shapeshifters that take the form of young or elderly women, animals, such as snakes, birds, or tigers, animate or inanimate parts of nature, and even natural phenomena like wind or clouds. The word chilltan derives from Persian and means "40 bodies" or "40 beings" of no specific gender. Ismailova explores this motif since her debut feature film 40 Days of Silence (2014).
Chilltan is also the title of Ismailova's labyrinthine work, playing out throughout a sequence of interconnected rooms in the basement of the Fridericianum during documenta fifteen. Here, Ismailova combines film, performance, and environment. In an adjacent space, Ismailova invited 18 artists from Kazakhstan, Kyrgyzstan, Tajikistan, and Uzbekistan, working as DAVRA, to enact works involving, amongst others, music, clay sculpture, and film. The succession of spaces draws the visitor in to meander through arrangements of traditional materials and historical accounts: sheets of silk cloth, artisanal Uzbek mattresses, and texts of shamanic pleas. Here, too, the motif of the number 40 is repeated: over 40 days, the artists of DAVRA organize public events within the framework of lumbung program.
Invited participants
Aïda Adilbek
Benazir Ibraimova
Dana Iskakova
Munis Jurayeva
Tokzhan Karatai
Nazira Karimi
Daria Kim
Jazgul Madazimova
Zumrad Mirzalieva
Tillaniso Nuregdi
Daria Nurtaza
Intizor Otaniyozova
Aziza Pulatova
Diana Rakhmanova
Dilda Ramazan
Mukhiddin Risqiyev
Odina Risqiyeva
Diana U
Madina Zholdybekova