Chang En-Man currently works and lives in Taipei. Utilizing moving image, photography, installation, and creative forms of self-organizing and collective projects, Chang's practice explores how the Indigenous people of Taiwan negotiate the ever-shifting socio-cultural terrains and conditions for survival in contemporary Taiwan against the backdrop of modernization and urbanization, rooted in her own experiences and heritage as a half-Indigenous person. With this as a point of departure, Chang excavates lost histories and narratives to explore the world at large, aiming to embody the transformative potential that art holds.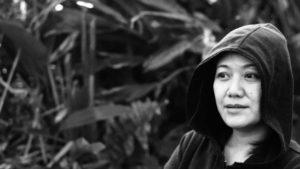 Since 2009 the artist has been investigating the connection between the history of imperialism and the modernization of Taiwan's Indigenous people by tracing the travel routes of giant African snails. Wok-fried, they are a common snack in Taiwan. Only in 1933 did they come to Taiwan as a food source on an order by Shimojō Kumaichi, a public health administrator during the Japanese Occupation (1895–1945). One of the world's worst invasive species, they have wreaked havoc on local agriculture. The Paiwan people, from whom Chang En-Man is descended matrilineally, use the meat for cinavu, eaten at celebrations. The slime is removed with paper mulberry leaves gathered from trees that symbolize the Indigenous.
For her first documenta fifteen contribution Floating System for Snails, Chang recreates the boathouse and waiting room of the Bootsverleih Ahoi (boat rental Ahoi) from painted glass in the shape of mulberry leaves and sets it afloat on the river Fulda. The waiting room contains an archival display examining the collection of snails. Secondly, the project Invasion investigates themes including colonial history, industry and economics, and food cultures. Working with research collaborators Tsou Ting and Wang Han Fang, Chang has distributed QR codes throughout the documenta fifteen sites as a sort of invasion in itself.
Chang has exhibited internationally, including Garden of Six Seasons, Para Site, Hong Kong (2020); Istanbul Biennial (2019); Cosmopolis #2: Repenser l'humain, Centre Pompidou, Paris (2019); Singapore Biennale (2019); Taiwan Biennial, Taichung (2018); As Heavy as a Feather, Taiwan Academy in Los Angeles (2017) / Centre A, Vancouver (2016); A Touch for the Now!, MONA Inner Spaces, Poznań (2016); These stories began before we arrived, Silo 6, Auckland (2015); unOfficial Pavilion of Taiwan's video art, [.BOX] Videoart project space, Milan (2015); Taipei Biennial (2014); Snail Paradise mapping, Open Contemporary Art Center, Taipei (2013); and THAITAI: A Measure of Understanding, Bangkok Art and Culture Centre (2012).
Invited participants
Han Fang Wang
Shueh Ching Lu
Ting Tsou