Launched in 2019, Archives des luttes des femmes en Algérie (Archives of Women's Struggles in Algeria) is an independent initiative aiming to build a digital and open access archive of documents relating to Algerian feminist collectives and associations, mainly since the country gained independence in 1962.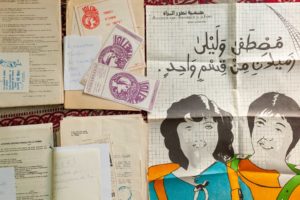 In 2019, Algeria experienced one of its largest popular uprisings, known as the Hirak. Millions took to the streets to protest against the government and led a movement that lasted more than a year. In this context of renewed collective political imagination, Archives des luttes des femmes en Algérie was founded by anthropologist and researcher Awel Haouati, who was later joined by researcher Saadia Gacem and photographer and archivist Lydia Saïdi, along with a large group of contributors.
The independent initiative's mission is to digitize and make accessible written, visual, print, and photographic materials produced by women activists and women-led associations both in Algeria itself and it's diaspora. Highlighting connections between present and past political struggles, Archives des luttes de femmes en Algérie builds a scenography with the material collected, proposing a fragmented chronology of women's movements and mobilizations in Algeria.
Archives des luttes de femmes en Algérie's project for documenta fifteen, installed at the Fridericianum, aims to reconstitute a history of these movements through a selection of archival documents. Visitors are invited to read or leaf through more than
60 reproductions of different materials from this period, such as political tracts, posters, photographs, and film rushes. The exhibition also includes recent interviews with three women activists who participated in Algeria's emancipatory movements and who gave access to their personal archives.
In addition to rendering visible the traces that these women have left over the decades yet which remain unknown to a wider audience, the exhibition presented in Kassel is an opportunity to reflect on the genesis of the project. By documenting the individual practices of the initiative's members in the framework of this larger project, the exhibition also focuses on the gestural work that an archival project demands, raising important questions around the conditions of the archive itself: how bodies move around and handle such fragile documents and what emanates from unearthing these narratives.
Here you find a Contextualization of the work of Archives des luttes des femmes en Algérie and the historical material from 1988.
Invited participants
Awel Haouati
Lydia Saïdi
Saadia Gacem