The Another Roadmap School is an international network of practitioners and researchers who are working toward art education as an engaged practice in museums, cultural institutions, educational centers, and grassroots organizations in 22 cities on four continents.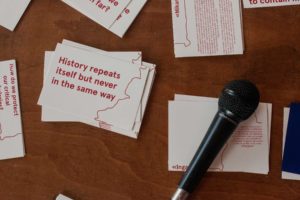 Another Roadmap Africa Cluster (ARAC) comprises all of its working groups that are based in African cities and is currently active in the cities of Kampala, Nyanza, Lubumbashi, Kinshasa, Maseru, Johannesburg, Lagos, and Cairo.
Founded in Uganda in 2015, ARAC exists to foster Africa-based conversations about the arts and education, particularly with respect to colonialism's epistemological and aesthetic legacies. It aims to develop a shared knowledge base and a structure of mutual learning that is genuinely accessible to and meaningful for cultural workers on the continent. Their mission is to rethink art education in order to focus on what's often left out of academic contexts: international connection, community building, and social engagement.
Over the years, ARAC has organized numerous colloquia, creating lively forums. There, its own methods have emerged, as well as a new vocabulary of art education—one divergent from the hitherto dominant Western or Eurocentric understandings of art and education. The Schoolbook Project, which takes center stage at documenta fifteen, draws from this wealth of experience. The results of ARAC's work to date are made accessible through three publications, called Provocations, Exercise, and Glossary. In keeping with the practice of collaborative knowledge transfer and collection, ARAC is opening up the work process to the public. As part of documenta's lumbung program, one-week editorial workshops are being held in which the diverse material is selected, organized, and jointly reflected upon. Provocations brings together central questions that have guided and challenged ARAC's research and action in recent years. Exercise provides concrete applications of knowledge to audiences, and Glossary compiles African words that describe concepts in art, aesthetics, and design.
Invited participants
Cairo Working Group
Andrea THAL
Rana ELNEMR
Johannesburg Working Group
David ANDREW
Puleng PLESSIE
Rangoato HLASANE
Tumi MOGOROSI
Kampala Working Group
Emma WOLUKAU-WANAMBWA
Kitto Derrick WINTERGREEN
Kinshasa Working Group
Cédrick NZOLO
Jean KAMBA
Lagos Working Group
Abiodun AKANDA
Ayo ADEWUNMI
Olutayo AJE
Peju LAYIWOLA
Quadri OLUWASEGUN
Lubumbashi Working Group
Chadrack KAKULE
Christelle NTANGA
Patrick MUDEKEREZA
Prodige MAKONGA
Rita MUKEBO
Sari MIDDERNACHT
Stéphane KABILA
Véronique POVORELLO KASONGO
Maseru Working Group
Lineo SEGOETE
Zachary ROSEN
Nyanza Working Group
Christian NYAMPETA
Christa UWASE