Sebastián Díaz Morales was born in Comodoro Rivadavia, Argentina, in 1975 and lives and works in Amsterdam, The Netherlands. Simon Danang Anggoro, also known as Gentong, is a member of ruangrupa. For documenta fifteen they both are harvesters.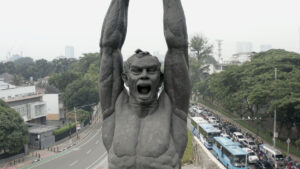 Before joining the collective, Gentong lived and worked in Yogyakarta and engaged in several projects at Taring Padi, Ruang Mes 56, and Cemeti – Institute for Art and Society. As part of ruangrupa, he is involved in various programs and projects, among others Research and Development, OK. Video Festival, and Jakarta 32°C. In 2018 Anggoro co-initiated and co-organized IpokIcon, which is a hang-out space and coffee shack at Gudskul in Jakarta. Gudskul is an educational knowledge-sharing platform formed in the same year by the three Jakarta-based collectives ruangrupa, Serrum, and Grafis Huru Hara. Besides that he was active in supporting and organizing waste management and urban farming activities. He also has been conversing closely with some new emerging artists to develop their ideas, including the collective Cut and Rescue from Jakarta and Jam Malam, an experimental music, sound, and audio project.
Díaz Morales' questioning of reality in film, whether concerning landscape, the urban, or even the sociopolitical, has been marked from the very outset by a fundamental distrust of the belief in a single, unified reality. Here, the camera does not function as a medium for faithfully depicting and recording what is observed, but is an essential, even epistemic means for questioning and appropriating reality. In his practice Díaz Morales examines perception and reality based on the assumption that reality itself is by nature highly fictional. Thus, his films do not simply transport the viewer into another, surreal, or phantasmal realm, but they strip reality of its familiarity and distort it, making it seem like something else. Reality is presented here as a phantasm, as something that always eludes its defining in images.
The video installation Smashing Monuments by Díaz Morales, which can be seen during documenta fifteen at Hübner areal, shows several members of ruangrupa from different generations talking to iconic monuments in Jakarta. Indonesia's history of independence and ruangrupa's own path as young citizens of the new republic mingle in these half-improvised and intimate dialogues. The monuments symbolize several lumbung values.
Sleepers is a 3-channel video installation by Díaz Morales and Gentong and is part of the ongoing series Fragments. Members of Gudskul are seen sleeping. It is in their shared non-productive time, like nongkrong, where life and work come together as one and the same thing.
Diáz Morales' work is part of major permanent collections and has been shown world-wide, between others in Museum für Gegenwartskunst Siegen; Le Fresnoy, Roubaix; CAC, Vilnius; STUK, Leuven; Tate Modern, London; Centre Pompidou, Paris; Stedelijk Museum Amsterdam; Ludwig Museum, Budapest; 57th Venice Biennial; Biennial São Paulo; Biennal of Sydney; Fundació Joan Miró, Barcelona; MUDAM, Luxembourg; Kadist Art Foundation, Paris; and the Calouste Gulbenkian Foundation. In 2009 he was awarded with a Guggenheim Fellowship.