Gudskul is an educational knowledge-sharing platform formed in 2018 by three Jakarta-based collectives ruangrupa, Serrum, and Grafis Huru Hara.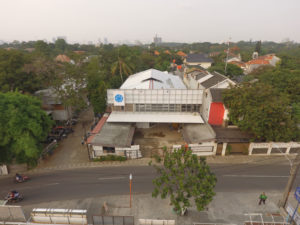 Gudskul sincerely believes in sharing and working together as two vital elements in developing Indonesian contemporary art and culture. Their intent is to disseminate initiative spirit through artistic and cultural endeavors in a society committed to collectivism, and to promote initiators who make local needs their highest priority, while at the same time contributing to and holding crucial roles internationally. Gudskul is building an ecosystem in which many participants are co-operating, including artists, curators, art writers, managers, researchers, musicians, filmmakers, architects, cooks, designers, fashionistas, and street artists.
The Gudskul members focus on different (artistic) practices and media, such as installation, video, sound, performance, media art, citizen participation, graphic arts, design, and pedagogy, etc. This multiplicity contributes to diversifying the issues and actors involved in every collaborative project that happens within a social, political, cultural, economical, environmental, and pedagogical context. Gudskul is open to anyone who is interested in co-learning, developing collective-based artistic practices, and art-making with a focus on collaboration.
For documenta fifteen, Gudskul replicates the collective learning model and creates Sekolah Temujalar (Temujalar School) in the Fridericianum. Temujalar derives from two Indonesian words — temu (meet) and jalar (spread). Temujalar School is envisaged to be a gathering space and a starting point to make connections with others.
Using nongkrong (Indonesian for hanging out) as a method for learning, the school develops a nongkrong Curricula. Conviviality and friendship characterize the organization. The curricula will be conducted through three main activity clusters: friend-making, learning from friends, and self-organizing. All the components in the clusters perform as moments to gather abundant tacit knowledge through nongkrong and living together. Temujalar stemmed from the Gudskul's ongoing collective study program. It functions as an artistic and sustainability model where the participants use the opportunities to experience being in a collective, collaborating, expanding networks, harvesting knowledge, and creating self-organized modules for managing resources. The duration of Temujalar is initially 50 days, but the spirit of the collective will continue to accompany the participants.
Invited participants
Arab Theatre Studio
Asia Art Archive
Ba Bau Air
Bishkek School of Contemporary Art
blaxTARLINES KUMASI
Ekstrak Kolektif
El Warcha
Essbare Stadt
Feinmechanik
Floating Project
Game Department Kunsthochschule Kassel
Grafis Huru Hara
Gud RnD
Hysteria
Infazio
Lifepatch
Load Na Dito
Nordland kunst- og filmhøgskole
Omni Space
Pangrok Sulap
Pari
PAYON
PSS Duren
Salikhain
Sandy Lo
Scutoid Coop
Serrum
Stäedelschule
Stuffo Labs
Sudut Kalisat
Tenthaus
TIGA (Tindakan Gerak Asuh)
Tokonoma
UnconditionalDesign
Yao Jui Chung
Yayasan Tonjo Foundation