In her practice yasmine eid-sabbagh explores potentials of human agency by engaging in experimental, collective work processes.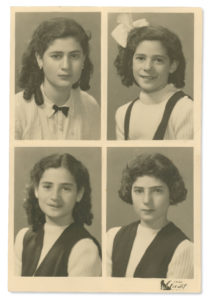 These include (counter-)archiving practices such as the negotiation around a potential digital archive (re)assembled in collaboration with inhabitants of Burj al-Shamali, a Palestinian refugee camp near Tyr, Lebanon, and radical pedagogical projects such as Ses Milanes-créixer a la natura, a self-organized forest kindergarten in Bunyola, Spain, using nature as its main infrastructure. Photography often acts as a medium for her to communally investigate notions of collectivity, power, and endurance; for example, in her engagement as a member of the Arab Image Foundation, a practitioner-led archival institution, and as a focus in her PhD in Art Theory and Cultural Studies from the Academy of Fine Arts in Vienna (2018).
Frictional Conversations is a negotiation process around a digital repository assembled with inhabitants of Burj al-Shamali, a Palestinian refugee camp southeast of Tyre, in southern Lebanon, where yasmine eid-sabbagh began working in 2001 and lived permanently between 2006 and 2011. The digital collection gathers family and studio photographs and includes videos and audio recordings.
Combining research, conversational practice, and performative interventions based on this digital collection, Frictional Conversations aims to expand the concept of the photographic image by dematerializing it and rematerializing it differently, and to question the iconography of the Palestinian refugee.
During the first four weeks of documenta fifteen in Kassel, the group (consisting of Ali al-Ali, Ahmad al-Khalil, Mela Dávila Freire, yasmine eid-sabbagh, Ahmed El-Faour, Hamada El-Joumaa, Yasser Ibrahim, Khawla Khalaf, Siwar Kraytem, Ben Pelé, Wasim Said, Fatmeh Soleiman, Nailé Sosa Aragón and Maya Zebdawi) engages in a process of re-visiting the material generated during the past 20 years, the digital repository of photographs itself, as well as texts, scripts, performances, and audio-visual material. Together they will generate new materializations of individual photographs or collections, in the form of a culinary event, rhythms, sounds, performative interventions, and ephemeral displays.
A collective publication retracing the more than twenty-year-long negotiation process around the digital collection will be published in the months following documenta fifteen.
Invited participants
Ahmad al-Khalil
Ahmed El-Faour
Ali al-Ali
Ben Pelé
Fatmeh Soleiman
Hamada El-Joumaa
Khawla Khalaf
Maya Zebdawi
Mela Dávila Freire
Nailé Sosa Aragón
Siwar Kraytem
Wasim Said
Yasser Ibrahim