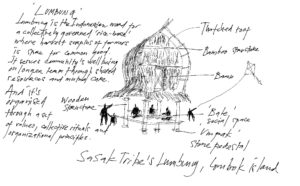 lumbung is the Indonesian word for a collectively governed rice barn, where the gathered harvest is stored for the common good of the community. ruangrupa has built the foundation of documenta fifteen on its core values and ideas. lumbung, as a concept, is the starting point for documenta fifteen. Over the coming years, lumbung will be operational in the lead up to documenta fifteen in 2022, and beyond.
At this stage, ruangrupa gives an insight into how they understand and implement lumbung in their curatorial practice. In the spirit of lumbung, ruangrupa has invited the first lumbung members and the Artistic Team to individually introduce themselves by sharing stories of their respective practices and how they connect to the wider project.
Against the background of today's challenging times, in which numerous initiatives and groups of people in many places are struggling, the foundation of this lumbung has been built by Fondation Festival Sur Le Niger (Universal Time Coordinated), Gudskul (Waktu Indonesia Barat), INLAND (Central European Time), Jatiwangi art Factory (Waktu Indonesia Barat), The Question of Funding (Eastern European Time), Más Arte Más Acción (MAMA) (Colombia Time), OFF-Biennale Budapest (Central European Time), Trampoline House (Central European Time), and ZK/U – Zentrum für Kunst und Urbanistik (Central European Time).
ruangrupa chose to work with these initiatives based on their inspirational models, their deep artistic practices rooted in local social structures, and their organizational and economic experimentations that go hand in hand with lumbung values.
Together, these lumbung members will develop long-term conversations in which the sharing of knowledge, solidarity, and resources will increase the wellbeing of each of their local practices and ecosystems. Over the next two years, these initial lumbung members will invite new members to join and share their tried and tested practices with each other, making the initiatives visible in various forms and modes of expression within the framework of documenta fifteen in Kassel and its relations to other locales.